Why Nigeria?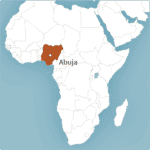 Nigeria is Africa's most populous country, with over 175 million people. However, it continues to struggle with both poverty and population growth. A 2018 study from the Gates Foundation reported that by 2050, 40 percent of the world's population living in extreme poverty will come from just two nations: the Democratic Republic of Congo, and Nigeria.
Nigeria also carries the burden of other poor health indicators. It has the world's highest rate of HIV/AIDS-related deaths, and high rates of maternal and infant mortality. Only 43% of births in the country are attended by a skilled medical professional. It is not surprising, then, that Nigeria also has the world's heaviest burden of obstetric fistula.
Regional conflict, political instability, and increasing poverty (particularly in rural areas) have further hindered access to healthcare in the country, especially for women. With female literacy rates below 50%, women with fistula face many obstacles in learning about their condition and accessing treatment. Urgent intervention is needed to meet Nigeria vast need for fistula care.
Click here to learn more about Fistula Foundation's work in Nigeria.