SILICON VALLEY CEO NAMED "2014 NONPROFIT MARKETER OF THE YEAR"
Fistula Foundation CEO Kate Grant Recognized for Nonprofit Vision, Results and Impact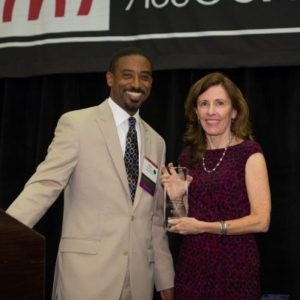 Fistula Foundation CEO Kate Grant was recognized by the American Marketing Association (AMA) and American Marketing Association Foundation (AMAF) for her visionary leadership of the organization for the past nine years. Ms. Grant is the eighth nonprofit leader to receive this honor since the establishment of the award in 2008.
Based in San Jose, Fistula Foundation funds curative surgeries for obstetric fistula, a childbirth injury common in the developing world that renders a woman incontinent. Left untreated, a woman with fistula can too often face a life of shame and isolation. When a woman has access to surgery that Fistula Foundation provides, which costs $450 on average, her life can be transformed and her health restored. One million women in Africa and Asia suffer from untreated obstetric fistula.
The AMA/AMAF Nonprofit Marketer of the Year Award honors extraordinary leadership and achievement in the field of nonprofit marketing. Ms. Grant was selected from a pool of 25 finalists and was recognized at a luncheon held during the Nonprofit Marketing Conference in Arlington, VA.
Ms. Grant has transformed the size and scope of Fistula Foundation since she joined the organization as its first chief executive in 2005. Under Ms. Grant's leadership Fistula Foundation has grown from funding one facility in one country to global leadership in fistula treatment, having funded more than 100 sites in 26 countries throughout Africa and Asia.
"I am honored to be recognized by people whose work I deeply respect – leaders in the nonprofit world. We're trying to do something simple: ensure that women trying to bring a child into the world are not permanently injured because of it. At the end of the day, our work is made possible because of the empathy and generosity of our donors helping women they'll never meet get their lives back," said Ms. Grant.
Since 2009, Fistula Foundation has funded 10,000 surgeries – more than any other nonprofit not accepting government funding. Funded primarily by individual donors, the organization has raised nearly $20 million since 2009, disseminating funds to provide fistula surgeries, hospital and equipment upgrades and training to increase the pool of fistula surgeons globally.
During Ms. Grant's tenure, the Foundation more than tripled its philanthropic revenue and more than quadrupled the number of surgeries it supports each year. She has also formed strong corporate partnerships; over the last decade Johnson & Johnson has provided more than a million dollars toward fistula treatment. Most recently, she forged a new partnership with Astellas Pharma Europe, Ltd. to create Action on Fistula, a three-year, $2 million effort to build a lasting treatment network and transform the lives of 1,200 women in Kenya.
Fistula Foundation has received a four-star rating from Charity Navigator for the past eight years, placing it in the top 1 percent of charities evaluated. CharityWatch has given Fistula Foundation an "A" rating for its transparency and accountability, and the organization has met all 20 of the Better Business Bureau's Standards for Charity Accountability since 2006.
Prior to joining Fistula Foundation, Ms. Grant served on the House Foreign Affairs Committee Staff as Special Assistant and Deputy Chief of Staff at USAID and as a consultant to USAID's Mission on Tanzania, the Rockefeller Foundation, the International AIDS Vaccine Initiative and the Women's Funding Network. She also worked as an advertising executive at two large agencies: Leo Burnett in Chicago and FCB in San Francisco, managing campaigns for Fortune 500 companies such as Levi Strauss, McDonald's, and Clorox. She holds an MPA from Princeton's Woodrow Wilson School and a BS degree from the Haas School of Business at University of California – Berkeley.
Photo: Fistula Foundation CEO Kate Grant pictured with Peter Barber, a member of the AMA Nonprofit Marketing Conference Committee and Senior Vice President, Business and Account Development at Lipman Hearne
# # #
About Fistula Foundation
Fistula Foundation believes that no woman should suffer a life of isolation and misery simply for trying to bring a child into the world. We are dedicated to raising awareness of and funding for fistula repair worldwide to treat women who are suffering from obstetric fistula. We have funded more than 10,000 surgeries since 2009 provided by local partners at more than 100 sites in 26 countries across Africa and Asia – funding more fistula repair surgeries worldwide than any other nonprofit not receiving government funding. Based in San Jose, California, in the heart of Silicon Valley, Fistula Foundation is honored to have received eight consecutive 4-star ratings from Charity Navigator; only 1 percent of charities have received this designation.