Meet Jerry Goldstein, Fistula Foundation's most dedicated volunteer.
In February, Fistula Foundation proudly presented the Allan Rosenfield Award to Jerry Goldstein in recognition of his outstanding contributions to Fistula Foundation's mission. Over the last 12 years, Jerry has donated hundreds of hours of his time, choosing to spend most of his Monday mornings in our San Jose office.
If you've given to Fistula Foundation in the last decade, you've likely received a thank you letter that was personally folded, stamped, and sealed by Jerry. The letters that pass through his hands have helped us stay connected to donors like you and share the impact you've had on thousands of women—something that is vital to our mission.
Now retired, Jerry previously worked as an English teacher at Leland High School in San Jose. After learning from a New York Times op-ed that there was a San Jose-based organization dedicated to raising funds for fistula surgeries, he wanted to help, and Jerry has been volunteering weekly ever since.
The award is named for the late Dr. Allan Rosenfield, who served on Fistula Foundation's Board of Directors for five years. As dean of Columbia University's Mailman School of Public Health, he was known globally for his pioneering leadership and myriad contributions to the field of women's health.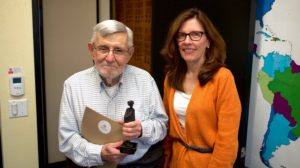 Published on: Feb 14, 2017