Traveling in the Democratic Republic of Congo
By Lindsey Pollaczek, vice president of programs, Fistula Foundation
Since beginning my work in the global health field in 2005, I've visited partners in many remote corners of Africa and Asia. But Kinshasa, Democratic Republic of Congo (DRC), is a particularly unique place. It's vibrant and chaotic. The traffic is crushing. Chickens and children run through the streets alongside a stream of yellow vans in various states of disrepair. Motorbikes are stacked with passengers.
About two hours from the city center, on the outskirts of town, sits a health center called Centre Socio-Medical Carmel that rents operating space to one of Fistula Foundation's newest partners, FisPro DRC. Getting there requires a good deal of patience. And perseverance. And an off-road vehicle. 
The route is inaccessible by anything other than a motorbike or a 4×4 truck, and even those vehicles struggle to navigate the severely inadequate infrastructure along the way. 
Earlier this year, I was in the DRC to meet with partners in our newly launched Fistula Foundation Treatment Network (FFTN) in that country. As I traveled to Centre Socio-Medical Carmel, the car I was riding in got stuck in deep sand and had to be pushed out in order to return to the right track.
An Oasis for Women in Need
"Sweltering" does not begin to describe the oppressive heat that envelops the city of  Kinshasa. As we travel by 4×4 to Centre Socio-Medical Carmel, Dr. Lucien Wasingya Kasereka—the founder of FisPro and our de facto tour guide for the trip—points out the burnt-out vehicles along the side of the road. All around us, weary travelers are packed into vans with blasted-out windows. Dr. Lucien tells me how this absence is a temporary relief in an overly packed vehicle.
In this heat, it's only fitting that we're en route to inaugurate a well that will be used by a large swath of the community, including people at the FisPro facility.
When we arrive, Dr. Lucien shows me the poles where electricity was set up, until someone came along and stole part of the equipment. He tells me how—before we inaugurated a well for the community—his team washed linens in the river, and the only fresh drinking water came from a large tanker parked nearby. There is no running water in this area.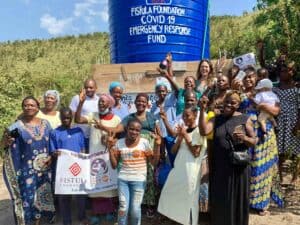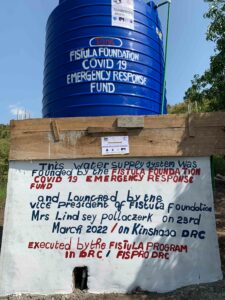 Patients and staff at FisPro DRC, along with Lindsey Pollaczek (in back row), celebrate the inauguration of a well to provide clean drinking water to
Centre Socio-Medical Carmel
and to the surrounding district of Mpasa III, in
N'sele
municipality of Kinshasa.

While touring the facility, Dr. Lucien demonstrates how the crossbar on a repurposed delivery bed hits his shins during surgery. In all of our other partner facilities, surgeons work at operating tables designed specifically for fistula surgeries—but not here. Most of our partners are able to meet basic operational needs. But FisPro has learned to live without. Here, resilience, resourcefulness, and ingenuity find their purest form.
An Environment That Breeds Opportunity
While the true burden of fistula is unknown, it's estimated that 42,000 women currently live with this condition in the DRC. It is a tough place for anyone to live, but it's especially tough for the women we serve. Political instability and conflict continue to plague the country, making it difficult for fistula patients to access the life-transforming care that Dr. Lucien and his team provide. 
Our five current partners in the DRC, including FisPro, are working to tackle the unmet need in that country and to ensure that no woman suffers from this curable condition. Through FFTN in the DRC, we're expanding our efforts to help them.
Being with the FisPro team leaves me exhausted and exhilarated. The need for people like Dr. Lucien is obvious, yet the challenges of operating in this environment are depressingly abundant. That makes his determination and his vision all the more remarkable. 
Dr. Lucien used to be a surgeon in Uganda, but he returned to the DRC with a dream of building a hospital in his hometown of Butembo, located in the North Kivu province of eastern Congo. Living there with his family became untenable, because of the unceasing conflict in the region. Yet his perseverance led him to set up a site that serves the greater Kinshasa community; he also returns to Butembo several times a year to perform fistula surgeries. He could be a surgeon in any number of countries, for any number of specialties, but he chooses to stay in the DRC and perform this critical role for his country. 
It's inspiring to witness Dr. Lucien  operating in such under-resourced conditions and tackling the dire need in front of him. He understands that you have to start somewhere, and build something. It won't be perfect, but each step toward progress is powerful.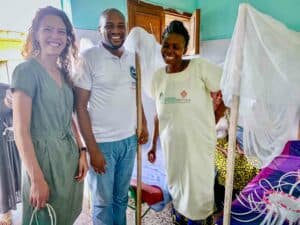 Published on August 30, 2022