Despite a challenging year, our partners in Afghanistan have been steadfast in their efforts to expand fistula care throughout the country. In the final months of 2020, experts from Fistula Foundation's trusted partner—Cure Hospital, a Be Team International facility in the capital city of Kabul—traveled to visit rural outposts in multiple isolated provinces.
Amidst travel complications and security concerns, our partners successfully completed their mission: to train scores of rural health care workers in the signs and symptoms of obstetric fistula. These newly-trained workers are now equipped to identify women with fistula in their isolated communities, and send them to Cure's main hospital in Kabul for treatment.
Thanks to our partners' efforts, more than 140 rural health care workers received essential training! We extend our deepest gratitude to Cure Hospital's team of experts, including Dr. Homa Dost, lead surgeon of Cure Hospital's all-female fistula team, and Dr. Yousuf Khan, head of Cure's main hospital in Kabul.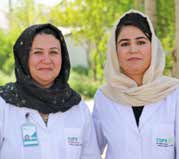 This story originally appeared in the Winter 2021 edition of our newsletter, Transformations.