Alitash is 56 years old and lives in a small village about 50 kilometers east of Aira, a large town in western Ethiopia. She has given birth three times – her first two children died as teenagers, and the third was stillborn.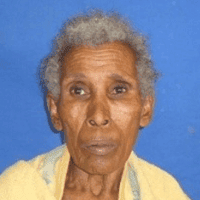 Alitash remained at home to deliver her third child, and there were many complications. Unfortunately the baby was stillborn, and soon thereafter Alitash began leaking urine due to an obstetric fistula. She stopped going to church and other social gatherings because she couldn't stand the gossip and stares.
She lived this way for 15 years before hearing that free treatment was available at Aira Hospital. Doctors at the hospital operated successfully on Alitash and healed her fistula. She is now completely dry, and looks forward to her new life.