Bilkis is just 20 years old. She developed an obstetric fistula during the delivery of her first baby. Bilkis delivered under the guidance of a traditional birth attendant who encouraged her to continue her labor at home despite the fact that she had already been in labor for two days.
By the time she was taken to a hospital, her baby was stillborn. Bilkis was heartbroken by the loss of her child, which was only made by worse by the fact that she was now incontinent. Her husband left her and married another woman, so Bilkis went to live with her parents. She remained in the home and did not engage in any social events, as other people in the community were not sympathetic to her condition.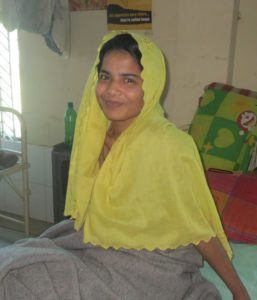 Thankfully, Bilkis came into contact with the team at HOPE Hospital in Cox's Bazar only six months after her complicated delivery. Bilkis underwent two surgeries and was finally able to leave the hospital completely continent and free of urine leakage. Still young and with her whole life ahead of her, Bilkis is looking forward to being a part of her community once again.