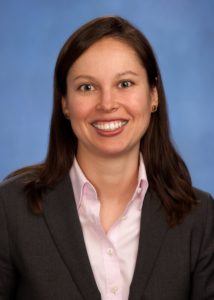 Fistula Foundation is delighted to announce the new Vice Chair of our board of directors: Kelly Brennan, Managing Director at Goldman Sachs. She is a longtime supporter of the organization, and has served on the board for two years.
Kelly first heard about the scourge of obstetric fistula when she attended a talk by Nicholas Kristof and Sheryl WuDunn. They were discussing Half the Sky, their groundbreaking book on women's rights which inspired the global movement of the same name. Kelly was moved, and began researching the organizations featured in the book. Fistula Foundation's mission struck her, and she decided to get involved.
With over 10 years of trading experience at Goldman Sachs, Kelly brings an impressive set of skills to the board of directors, and was excited to apply them to the fight against obstetric fistula. She has consistently been impressed with Fistula Foundation's vigilance around effectiveness and fiscal responsibility, and as a board member, she enjoys rolling up her sleeves on behalf of women around the world and having a "front row seat" to this vital work.
Joining the board "really was a no-brainer for me," she says. "It was a way for me to augment my giving to the Foundation.
By dedicating her time, resources, and valuable skills to Fistula Foundation, Kelly recognizes the importance of giving back  to women in need, particularly women made vulnerable by obstetric fistula. "It becomes how you balance…what you think is important in life. For me, this is a very large priority."
As a parent, Kelly also wants her family to learn the value of giving back. She adds, "[I] think it's important as a role model for my kids—to see this responsibility we have to serve a larger global community."
We are thrilled to welcome Kelly into her new role as Vice Chair, and are incredibly grateful for her dedication to women suffering from obstetric fistula. Thank you, Kelly—your work is changing lives!
This story originally appeared in the Winter 2018 edition of our newsletter, Transformations.
Published on: Jan 30, 2018