This article originally appeared on The Huffington Post.
By Kate Grant, CEO, Fistula Foundation
William MacAskill is that rare creature: a true visionary and iconoclast, a bright rising star in the too often stodgy field of philanthropy. Like many people in the Effective Altruism movement, I anticipated this week's release of MacAskill's book Doing Good Better: How Effective Altruism Can Help You Make a Difference. But, here's a word of caution to readers of the book: beware. If the facts cited and conclusion drawn about my organization – Fistula Foundation – are any indication, the book may contain significant errors, ironic for a field based on the primacy of evidence.
I run Fistula Foundation, which supports surgical treatment for women with the childbirth injury obstetric fistula, that when left untreated leaves women incontinent and too often social outcasts. While largely eradicated a century ago in developed countries, fistula still devastates the lives of poor women in developing countries. We are a recommend charity of The Life You Can Save organization, founded by the father of Effective Altruism, Princeton Professor Peter Singer.
Thus, when I got MacAskill's book, I did what you'd do if you were me: check out what he wrote about us. While MacAskill clearly does find fistula a compelling problem and he devotes two pages to discussing fistula and our Foundation, MacAskill got our basic mission completely wrong, relying on information from over six years ago. He confined our work to one hospital in one country, and then used that wholly mistaken and outdated view as a reason to not recommend giving us support. What's a girl to do with that, but try to set the record straight?
MacAskill states that "the primary recipient of The Fistula Foundation revenue is Hamlin Fistula Hospital in Addis Ababa, Ethiopia," and implies that with this narrow focus, we are not worthy of support.
But the problem is, in February 2009 Fistula Foundation dramatically changed our mission to treat fistula globally. Far from focusing on one hospital in one country, we have become the largest non-governmental funder of fistula surgery in the world, having worked with partners across 30 countries.
In the last six years, we've raised more than $27 million USD from donors in more than 60 countries and only 15% of this has gone to Hamlin. In 2014, $0 went to Hamlin. Hamlin created their own fundraising organization in the U.S. in 2010, to which they request all donations be directed. Thus, since 2014, Fistula Foundation no longer raises any funds for them. Dr. Catherine Hamlin, the founder, is deeply inspiring and we wish her and her organization well.
We went global six and a half years ago to help treat the at least one million women who suffer with untreated fistula, with UNFPA putting the number at over 2 million. We wanted to attack this ancient scourge head on. According to the Global Fistula Map, fewer than 20,000 women receive treatment each year. There is clearly a vast unmet need for fistula treatment.
Further, there is a nearly linear relationship that demonstrates new funds we raise translate directly into good done for indigent women. This is measured in surgeries we fund that literally transform lives. In fact, nearly 95% of the surgeries we've funded did not, in fact, happen at Hamlin Hospital, but at dozens of other sites in Africa and Asia.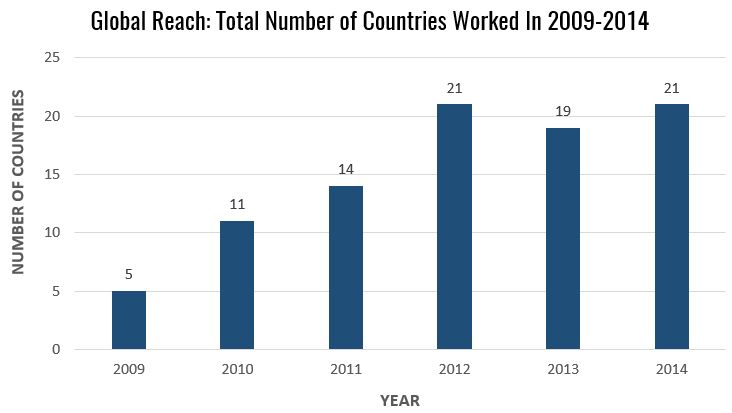 In addition to surgeries, we fund programs and projects that build greater global capacity for fistula treatment, such as surgeon training:
Here's the thing: this isn't "insider baseball" or a somehow hidden fact. We post every audit and 990 on our website and have for a decade, along with every annual report, which detail where the funds we raise go.
Further, GuideStar, an online resource for every nonprofit filing a tax return in the U.S., also posts every one of our tax returns on their site. All that Will MacAskill or someone fact checking at Gotham Books had to do was visit our website or GuideStar's. MacAskill's book has 40 pages of detailed endnotes, so it seems likely that he and his editors did more thorough research on other elements of the book. Maybe we were just unlucky.
How many indigent, incontinent women in need of help will now go without because someone was discouraged from supporting us as a result of this error?
I hope none, because I hope MacAskill and his editors will fix this inaccurate portrayal of our work in the next printing of this book. We all make mistakes, and even great minds like MacAskill's aren't perfect. I hope they correct our record, and then give us and the women whose surgery we fund their support. We think we're worth it.
I'm still a fan of the Effective Altruism movement and of MacAskill, and am looking forward to speaking at their conference at Oxford University next month. Organizations like The Life You Can Save, GiveWell, and MacAskill's Giving What We Can each add provocative and unflinching perspectives to the charitable sector, a place that for too long has relied on the tug of emotions alone rather than reason and evidence to help make the world a better place.
At Fistula Foundation, by helping poor incontinent women regain their lives, and by doing so effectively, efficiently and with results that we can prove, we think we make a pretty good case for both your heart and your head.
Click here to read the article on The Huffington Post.
Publish on: Jul 30, 2015