My once-in-a-lifetime trip to a fistula patient's home
By Tarah Walker, Senior Communications Manager
In the high heat of a March afternoon in Kenya, Mwanahamisi welcomes a motley crew of jet-lagged Americans into her modest mud hut. My coworkers and I have just traversed the wet, bumpy footpath to her village. Our shoes are caked with rich red mud. Life is teeming around us.
Just outside the hut, chickens squawk and goats stamp their tiny hooves. My eyes dart across the dark, narrow living space as I catch glimpses of creepy crawlies roaming the walls and bustling underfoot. In this place, nature rules within and without. (That's me on the right in the photo above, walking with a colleague on a path near Mwanahamisi's hut.)
This is the farthest I've ever been from home, and I'm struck by a new wave of culture shock. Steadying myself, I reassert my focus on Mwanahamisi, because it's time for her to tell her story of facing obstetric fistula. Her voice begins as a rumble—low and soft, like far-off thunder.
"My name is Mwanahamisi," she says. "This is my house, and this is my husband. Welcome."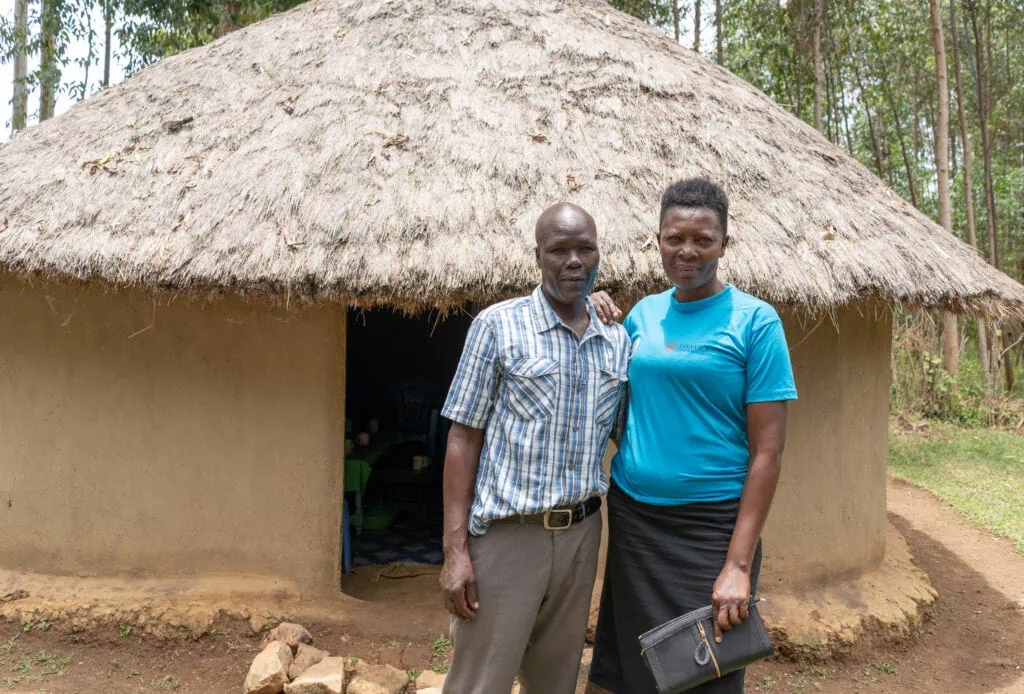 Mwanahamisi's Story
Tears form at the edges of her eyes, but her voice remains steady. She has told this story before, yet the heavy memories never fail to shake her. As a writer for Fistula Foundation, I hear stories like hers every day. This time is different, though. I'm barely five feet away from a woman who has experienced a horrible tragedy—a prolonged, obstructed labor that stole her baby and left her with obstetric fistula, a devastating childbirth injury that causes incontinence.
For years, her husband, Patrick—who now sits comfortably beside her—was a ghost in her life. "I tried to be by her side, but it was difficult," said Patrick. He tells us how Mwanahamisi's constant smell drove everyone away. Nobody would visit the couple. Mwanahamisi was perpetually mocked by people she had once called friends. After a while, Patrick reached a breaking point, and advised Mwanahamisi to go live with her family. Shortly after she moved out of their home, he took another wife.
Patrick openly acknowledges this marital betrayal as he helps recount Mwanahamisi's story. My colleagues and I suck in a collective breath, trying not to pass judgment against a stranger who has so hospitably welcomed us into his home. The women in our group, in particular, have a hard time accepting this reunification. Mwanahamisi was effectively abandoned for 15 years by the man who was supposed to stay with her, no matter what. Still, his return to her life is a blessing to Mwanahamisi. He left her, yes—but he has come back. She is one of the lucky ones whose health has been restored.
For those who cannot access treatment, it's a life sentence. Social, geographic, and economic barriers to receiving care are difficult to overcome. Far too often, women with fistula are abandoned by their friends and families. The stench that follows them wherever they go results in years of social isolation.
It's nothing short of a miracle, then, that after living with fistula for more than a decade, Mwanahamisi was found by our outreach partner Women and Development Against Distress in Africa (WADADIA) and referred to our treatment partner Cherangany Nursing Home for life-transforming repair surgery. Once Patrick caught wind that she was healed, he called her up and scheduled a visit to her parents' home.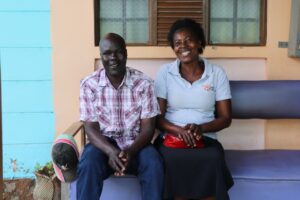 Better Together
"Because I really love her, I had to go and feed her," says Patrick, recalling the moment when they reunited. They share a warm smile and lovingly squeeze each other's hands. Despite the linguistic and cultural barriers that stand between us, I sense that Mwanahamisi feels whole again, after enduring so much needless suffering. She has forgiven Patrick for leaving her, and accepted his decision to take another wife. She's gone to hell and back, yet her spirit is bright and her heart remains open. Fistula patients possess a level of fortitude and grace that is simply breathtaking. This is a time to keep listening, and to shake loose our tendency to make judgments.
At this point, I've been in Kenya for only four days, but I'm struck by the warmth of its inhabitants. I feel firmly rooted here, with the people and the land seeming to rise up to hold my heart. I'm learning what true hospitality is. Like sunshine on exposed skin, it warms you down to your core. A common refrain is to "feel most welcome." And I do.
As has been true for most of my life and all of my writing career, the little things become the big things. All the tiny moments, the little joys, the single frames, tether together and become the full story. A rooster's crow heard from the middle of a dirt road in Mumias, Kenya, becomes an unforgettable soundtrack to a day filled with the joy of a woman who had lost everything but is learning to live again. It is a call of hope. And a reminder that our togetherness is precious.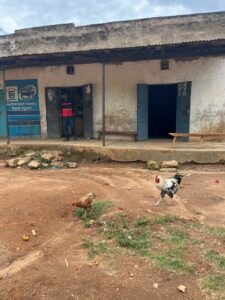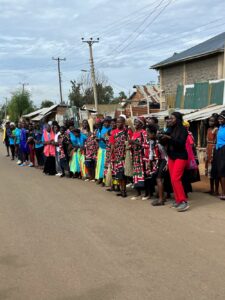 Roosters trot along a roadway near Mwanahamisi's village        Fistula survivors, advocates, and outreach workers
                                                                                                                                greet our team with song and dance as we tour
                                                                                                                                the Fistula Foundation office in Mumias, Kenya
Once Mwanahamisi came home to Patrick, she enrolled in hairdressing classes through a reintegration program run by WADADIA. She was determined to build a vibrant future. Today, she owns her own business, a salon that is a short trek from her home. Through WADADIA,  she also takes part in a survivor support group, which helps women find emotional healing after the physical wounds of fistula have become scar tissue. Her story shines as a beacon of hope for other women who suffer as she once did.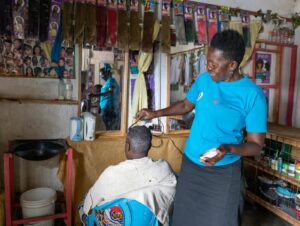 "I take the opportunity to share my story in church and at funerals, so that other women who are suffering from fistula can hear about it and access treatment," says Mwanahamisi. To date, through her storytelling, she has helped three women in her community access fistula treatment.
Rooted in Hope
The saddest part of Mwanahamisi's story is that it is not unique. So many women like her are sitting alone in a wet bed because they cannot access the treatment that would permanently cure them. That's where Fistula Foundation comes in. As the global leader in supporting fistula treatment, we are on a mission to end this suffering on a country-by-country basis. But we can't do it alone.
Most people I know will never get the chance to travel to Africa. They won't ever sit for afternoon tea in a stranger's hut, or walk the muddy paths of a Kenyan village, teeming with life. My role at Fistula Foundation afforded me an incredible opportunity to see the work of fistula surgeons and outreach partners in action. It's an experience I won't soon forget.
Kenya was a key that opened compartments in my heart that I never knew existed. It taught me that despite differences in how and where we live, our collective survival depends on the kindness we show each other. Whether we like it or not, we are all woven into this tapestry called life. Pain is pain, and joy is joy. Our community can make or break us. So we might as well make each other's corners of the Earth a little better, in any way that we can.
I encourage you to open your heart to this cause, and to support us in helping the many women like Mwanahamisi who are simply trying to live a healthy, purposeful life. At the end of the day, that's all that any of us can hope to do.
Published, in a slightly different form, by Girls' Globe on September 29, 2023. Republished, with permission, on October 6, 2023.