Living in a small village in central Angola, Florinda was married in her teens and became pregnant at 16. Without access to emergency obstetric care, her difficult delivery caused her to develop a fistula. But today, she is smiling again.
Florinda is from a small village in central Angola. A teenage bride, she became pregnant at 16. She went into labor at home and struggled for four days before she was finally brought to a hospital in Huambo, about 70 miles (over 100 km) away and the nearest place where emergency obstetric care was available. After a long drive over very bad roads, Florinda reached the hospital. Sadly, her baby did not survive.
After the delivery, she began leaking urine uncontrollably—the prolonged labor had left her with an obstetric fistula, a childbirth injury that causes incontinence. Her husband left her, and Florinda went to live with her mother.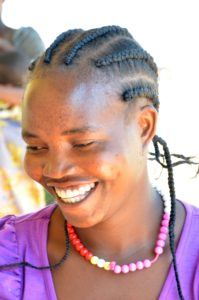 It wasn't until several years later that she learned treatment was available at our partner hospital Centro Evangélico de Medicina do Lubango (CEML). There, she underwent two difficult fistula repair surgeries. Although her condition was improved after the second surgery, she was still leaking drops of urine when she returned home.
But CEML staff were met with a happy sight when they visited Florinda's village just a few months later. "It was a wonderful surprise to see her just radiant when we flew to her small village of Chinhama in June [of 2016]," they write. "The operation had been a success!"