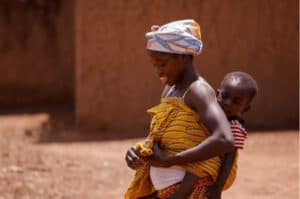 By Liz Longley
It takes clear-eyed compassion to look the problems of obstetric fistula in the eye. Society writ large and small often turns away.
Until a decade ago, philanthropy also largely averted its gaze. Today, the Fistula Foundation funds more global repair surgeries than any other organization.
Since 2005, CEO Kate Grant has helped the foundation evolve from a mostly volunteer effort in a single Ethiopian hospital to a recognized leader that's transformed the lives of more than 60,000 women across 33 countries, one surgery at a time.
Obstetric fistula is one of the most devastating injuries of childbirth, with equally devastating consequences. The result of prolonged, obstructed labor that goes untreated, it leaves women with a rupture between the birth canal and rectum or bladder. Incontinence and other chronic medical problems follow, coupled with cultural stigmas that isolate and marginalize those who experience it.
According to the World Health Organization, 2 million women and girls live with the untreated condition globally, mostly in sub-Saharan Africa and Asia—a number that grows by up to 100,000 cases a year.
"Modern-day lepers," women with fistula are routinely abandoned by their husbands and families, and shunned by their communities. "They did not want me around because I smelled," said one sufferer, "and they would not eat from my cooking. Life was unbearable."
Already lacking most measures of social agency, women with fistula fall further from view, hidden by circumstances of place, education, mobility and economics. Absent interventions that avoid the condition in the first place—contraception or timely, quality medical assistance during childbirth—surgery is the only cure.
Fistula Foundation
Founded in 2000, the Fistula Foundation is guided by the idea that "no woman should endure a life of misery and isolation simply for trying to bring a child into this world." It's on a mission to eradicate fistula globally.
It began as a mostly volunteer organization in one pioneering site in Ethiopia: the Addis Ababa Fistula Hospital. In 2009, it expanded its mission globally, and today, operates in 25 countries on two continents, Africa and Asia.
According to the foundation, its rapid expansion and fundraising success have allowed it to fund more global fistula repair surgeries than any other organization, and create unmatched treatment networks in hard-to-reach places.
Funding primarily supports its singular metric for success—fistula surgeries that run an estimated $598 each. But work is also organized around a treatment network model with four simple elements: reaching disenfranchised patients, building and expanding capacity through a network of hospitals, training and certifying nurses and surgeons, and arming post-surgery patients with the legal, economic and health supports needed to rebuild their lives.
Grant explained that the network model takes a two-pronged approach to reaching disenfranchised patients. The first "supports hospitals that tackle fistula in their catchment area—currently 100 hospital sites in 25 countries," she said.
"The second is a more ambitious strategy to end fistula on a country-by-country basis, with investment in a network of hospitals and outreach to find women in need of help. The network covers a country and attempts to get rid of the backlog of cases and tackle any new ones."
The foundation hopes to replicate its successful networks in Kenya and Zambia in stable countries with high degrees of unmet need and a strong base of surgeons.
Against the mainstream
Fistula is not a top funding priority when it comes to supporting maternal health in the U.S. or globally. The three other nonprofits involved in the work are all significantly smaller than the Fistula Foundation, which recorded contributions topping $10 million in 2019. That same year, the Worldwide Fistula Fund, founded by former Rhodes Scholar Dr. Lewis Wall; Operation Fistula, which primarily works in the communes of Madagascar; and Freedom from Fistula, led by Scottish businesswoman Dame Ann Gloag, collectively raised less than $2 million.
Despite all the challenges, the Fistula Foundation has grown by leaps and bounds since 2005, when Grant came on as CEO. From then to now, Grant said revenues have increased 10-fold, from roughly $1.9 million to roughly $20 million, and surgery numbers have ballooned from 300 in 2005 to just over 9,000 in 2021.
To get there, Kate Grant said she's spent the last 17 years applying what she describes as a "non-linear" background to build the organization.
An early interest in female circumcision gave Grant a front-row seat to a problem that wasn't yet "on the agenda" when she left Princeton. In no particular order, her career path includes volunteering at Planned Parenthood, working as an advertising executive on Fortune 500 accounts, a stint as a junior staffer for the House Foreign Affairs Committee, consulting to USAID, and time with the Rockefeller Foundation, Yahoo Community Relations and the tech fundraising collective Network for Good.
In 2005, she became the Fistula Foundation's first chief executive.
Bottom lines and branding
Grant's background shaped the businesslike way she operates, and helped her create a brand that donors with an eye on performance can easily embrace.
She considers the foundation a business with a single bottom line. "The main reason for our success is that we focus intensely on one measurable outcome: (the) number of women we can help. This singular goal provides an organizing mechanism for our entire organization."
Grant also values technology. "I run Fistula Foundation like a wildly ambitious start-up; we lean into technology and keep our team lean, but never mean."
Grant also used her advertising background to build brand and reputation, and her business acumen to prioritize financials and transparency. During her tenure, the foundation has taken the time to garner the kind of accreditation that attracts and retains donors.
The organization has earned 15 consecutive four-star ratings from Charity Navigator, straight As from Charity Watch, and a platinum-level transparency rating from GuideStar. It is also one of only 25 organizations recommended by The Life You Can Save, the organization Peter Singer founded to advance his ideas of improving the lives of people living in poverty.
Powered by women
Obstetric fistula is a uniquely women's issue, so it's no surprise that the cause resonates with women. "We love committed men, but roughly 85% of our donors and staff are women," said Grant, while also pointing to its female CEO and board chair.
To find her team, Grant said she hires based "on intangibles, rather than experience."
"I've tried to hire the most capable people I can. Though we've become a fundraising powerhouse, counterintuitively, very few of our staff have nonprofit fundraising experience" before joining. "What they do have is a deep commitment to our mission and the ability to work smart and hard."
Within that, Grant sees herself as "first among equals in a jazz combo filled with talented musicians," rather than as conductor of a symphony orchestra. We are making this up as we go along," she enthused. "What a ride!"
Words and deeds
Awareness of fistula has grown in the past two decades, as evidenced in books like "Half the Sky," and a series of resolutions from the U.N. and its agencies. In 2003, the UNFPA, the U.N.'s sexual and reproductive health agency, launched a global Campaign To End Fistula within a generation. In 2012, the U.N. General Assembly adopted a resolution to support that goal. In 2016, it dedicated International Day to ending obstetric fistula.
In 2020, the U.N. set even higher goals, launching a countdown to eradication by 2030. Asked if the timeframe is realistic, Grant simply said "no."
Words and deeds aren't presently aligned. As U.N. funding recedes, and USAID funding ends, Grant said that declining support has added pressure to maintaining momentum.
But that's no deterrent. Even as "the big players in international aid have left the field," the foundation is keeping its eye on the ball. With "at least a million women suffering needlessly" in sub-Saharan Africa and South Asia alone, said Grant, "We have no ceiling on our ambition."
Published by Inside Philanthropy on March 17, 2022. Republished, with permission, on March 18, 2022.