Jahanara is just 23 years old. She was in labor for a full day at home before going to a hospital for an emergency C-section. By then, unfortunately, the damage had already been done.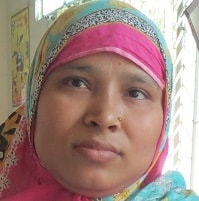 By the time Jahanara got a C-section, her baby had died. A few days after leaving the hospital, she began leaking urine. Thankfully, after only seven months someone from the district hospital in Cox's Bazar told her about fistula and the availability of free treatment at HOPE Hospital. This health care worker contacted the supervisor at HOPE Hospital, who in turn contacted Jahanara and arranged for her immediate transport to the hospital.
The team at HOPE Hospital operated on Jahanara and was able to successfully repair her fistula. She has now returned home with her husband and the young couple is looking forward to the future. Jahanara is a wonderful example of the power of community outreach, which increases awareness about fistula and helps women access treatment in a timely manner.