For Khadijah and her family, it was normal to give birth at home without skilled medical assistance. After three days of labor pains, however, she was taken to a maternity center in Moussoro where she gave birth to a stillborn baby.
It was at this point that Khadijah started experiencing incontinence, a symptom of fistula. From that day, her life changed completely: only a year after a difficult delivery and the loss of her child, she found herself alone, abandoned by her husband. She also stopped doing her regular activities, as the incontinence made it impossible for her to work.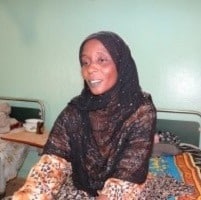 Khadijah underwent three fistula repair interventions without success. She visited several hospitals and, however discouraging these experiences were, she never gave up. On her final attempt, she arrived at the Center for Reproductive Health and Fistula Repair in N'Djamena. It was here that Khadijah's fistula was finally repaired successfully.
After living for so many years with fistula and finally free from the condition, Khadijah feels like a new person. She is now 35 and plans to make a fresh start. The most difficult part about living with fistula is being stigmatized by the community without the ability to lead a normal life. "Today I have in my hands the life I so much longed for. I would like to tell other women in my village who suffer from fistula that it is possible to get better. But I especially want to tell all pregnant women how important it is to be checked regularly by health professionals," Khadijah said after her surgery.