A new FFTN expands access to care
In July, Fistula Foundation launched the Fistula Foundation Treatment Network (FFTN) in Tanzania. This event brought our countrywide network model to a fourth country in Africa, and marked the beginning of our plan to launch five new networks by 2027. 
Together with the Tanzanian Ministry of Health and our partners in Tanzania, we celebrated this major milestone at the facility of our longtime partner Comprehensive Community-Based Rehabilitation in Tanzania (CCBRT), in Dar es Salaam.
Lindsey Pollaczek, chief program officer, spoke at the launch event. "Today marks a strong and strategic step forward," she said. "Thanks to our amazing partners, we are one step closer to realizing our vision to end—within a generation—the suffering caused by obstetric fistula. Our long-term vision is to bring this suffering to an end in all countries where fistula persists today."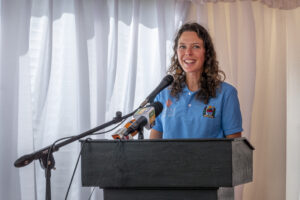 The event included singing and dancing, acrobatic displays, cake cutting, and a ceremonial balloon release to symbolize the beginning of this new initiative. Attendees also heard testimonials from Emmi and Maria, two women who had suffered from fistula before receiving repair surgery at CCBRT.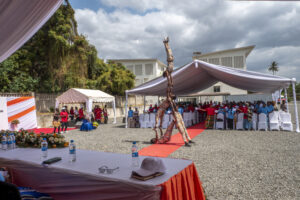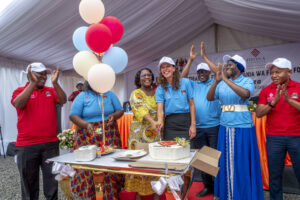 The guest of honor was Professor Tumaini Nagu, chief medical officer for the Ministry of Health (above, in yellow dress). She expressed gratitude for Fistula Foundation and commended our work over the past decade to support women with fistula in Tanzania.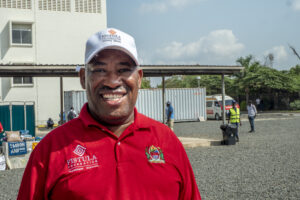 Between now and December 2026, FFTN in Tanzania plans to advance the following goals.
Support 5,000 surgeries

: Over the past 10 years, Fistula Foundation has supported 5,000 surgeries in Tanzania. Through FFTN in Tanzania, we plan to support the same number of surgeries in less than half that length of time.

Invest in 10 partner organizations

: Fistula Foundation currently supports five partners in Tanzania: the Association of Fistula Surgeons of Tanzania, Bugando Medical Center, CCBRT, Maternity Africa, and Nkinga Regional Referral Hospital. We plan to strengthen our work in the country by doubling that number over the next few years. 

Build capacity of surgeons and providers

: Because fistula surgeons and their teams are at the heart of our work, FFTN in Tanzania will support these providers with training opportunities so that they can deliver high-quality services to the women in their care.

Reach all regions in Tanzania

: We are committed to supporting free, high-quality fistula care for all women in need, regardless of where they live. Through improved coordination of efforts and sharing of best practices, FFTN partners will reach women even in the most remote corners of Tanzania. 
The network model works to connect all women in all parts of a country with timely, high-quality care by collaborating with partners to integrate outreach, training, treatment, and reintegration services. The goal of each FFTN is to reduce and ultimately eliminate the wait for treatment. Fistula Foundation built the first treatment network in Kenya in 2014, and since then has expanded the model to Zambia (in 2017) and the Democratic Republic of Congo (in 2022).
"This is an exciting step forward to help us accomplish the ambitious goals that we set forth in our five-year strategic plan," said CEO Kate Grant. "Plans are just writing on paper without the hard work of caring, committed people who make them happen. Congratulations to our whole team and to our loyal donors on this important milestone."
Published on August 9, 2023