By Kate Grant
On a drizzly gray London morning in October, 2007, I sat in the front of a large windowless room to listen to a panel discussion at the maternal health conference,Women Deliver. I downed a double latte, trying to jump start my groggy jet-lagged brain. The session was hosted by the UNFPA; the topic: the childbirth injury obstetric fistula, a subject I thought I knew well since I run an organization devoted to fighting it, Fistula Foundation. I thought I'd seen it all. But, I hadn't. Not even close. I hadn't met Sarah Omega.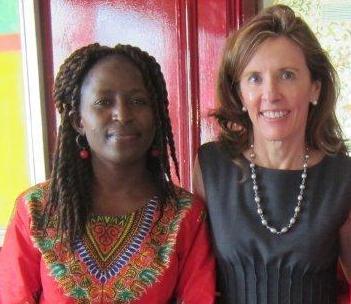 Sarah Omega and Kate Grant
As the caffeine kicked in, the first two speakers wrapped up their remarks. Then a young Kenyan woman took to the podium. It was Sarah Omega. As she looked across the full room, standing poised as a ballet dancer, her chocolate brown eyes focused firmly ahead, it was her voice that grabbed me first; it was firm, with a resolve and strength that I could not ignore. She proceeded to tell her story. Orphaned at 15. Raped at 19. Pregnant as a result. A prolonged obstructed labor. A C-section delayed for life-changing hours by neglectful medical staff. A stillborn baby boy. Utter exhaustion. A urine-soaked bed. An obstetric fistula. Unrelenting incontinence. Ten years of social isolation before her fistula was finally treated successfully with surgery by
Dr. Hillary Mabeya
.
Without shame, without reserve, without even a hint of nervousness, and certainly without embarrassment, Sarah grabbed everyone's attention.
I sat riveted. I absorbed her story, and with each layer I felt her heartbreak and loss. At 15, what was I worried about? Getting the braces off my teeth? At 19, college grades, a boyfriend? Who remembers? Sarah had endured far more by 19 than I had at more than twice that age, and all without even a mother's love to sustain her.
But, it wasn't just her story that compelled me, it was Sarah. Our organization's tagline used to be "from despair to dignity" — the journey from incontinence to health when a woman with fistula receives surgery to repair the injury. Yet it was clear that Sarah had let nothing destroy her dignity, not the brute violence of rape, not the indelible loss of her mother and stillborn baby boy, not the social isolation resulting from her fistula. Her spirit was unbreakable and I was shaken — touched to my core.
As Sarah finished her remarks, I sat frozen and overwhelmed by a sensation both profound and penetrating: a true sense of awe, and the recognition that I was in the presence of an extraordinary soul — the strongest and most courageous person I'd ever encountered.
As I tried to calm my emotional swell, I noticed the room was emptying. If I wanted to meet this astonishing woman, I needed to get up or I'd miss the chance. As I squelched tears, I introduced myself and this is what rolled out of my mouth in a jumbled mess: "I don't have a daughter but if I were your mother I'd be deeply proud of the woman you've become. I am inspired by your courage, your strength, your beauty and your resolve".
Where on earth did that come from? Who did I think I was to mention her late mother? Get a grip!

Sarah smiled warmly; thankfully, she seemed touched rather than repelled by my awkward blathering. I learned that this was her first trip out of Kenya. And thus began a dear friendship. Across time zones and cultures, we corresponded by e-mail and I delighted in seeing Sarah continue to speak out about fistula, sharing her story and her strength, moving many others as she moved me.
Through a series of unexpected career twists and turns I am running an organization helping provide fistula treatment to women in more than 20 countries. We raise the money ourselves, not taking any money from the U.S. government or any government. I usually hate asking people for money, so it's almost perverse that I have a job that requires me to do just that, for this is what enables us to fund life-transforming surgery.
That morning, Sarah gave me something of enduring value: an affirmation of my own that trying to open hearts, minds and wallets to help get critical care to courageous women like Sarah was the right path for me.
Sarah also made me see the women our Foundation helps through a better, more accurate lens. While women like Sarah have certainly been victimized by an unjust world that is too often indifferent to their needs, this does not mean they are defeated or that they have to remain as victims. Far from it, they are often the most resilient souls on the planet — unbroken by suffering that to me seems unimaginable.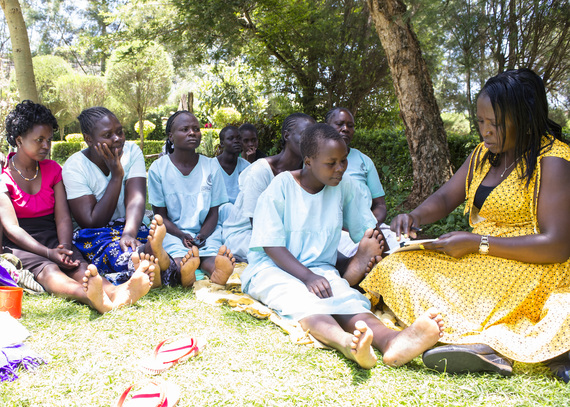 Sarah Omega meets with fistula patients at Gynocare Fistula Center in Eldoret, Kenya.

Sarah works today in Kenya both for Fistula Foundation and another terrific organization, One by One, where she encourages women suffering with fistula to get treatment. She's gotten married to a lovely and lucky young man named Kennedy and they are expecting their first child very soon.
The writer Judith Campbell said "when your heart speaks take good notes." That morning nearly eight years ago, my heart demanded I pay attention to Sarah Omega. I will always be thankful to her for giving me that rarest of life's treasures — true inspiration.
Kate Grant is CEO of Fistula Foundation, which funds treatment of the childbirth injury obstetric fistula in more than 20 countries throughout sub-Saharan Africa and Southeast Asia. Follow the organization on Twitter at @Fistula_Fdtn.
Published on: Aug 14, 2015