During the 2014 Ebola outbreak, Liberia was one of the hardest-hit countries in West Africa, with the highest number of Ebola deaths. According to the World Health Organization (WHO), Liberia reported 300 to 400 new Ebola cases every week in August and September 2014, a devastating pace for the country's already weak health system. In the capital city of Monrovia, WHO reports that during that period, people were turned away from treatment centers overwhelmed with patients and that bodies sometimes went uncollected for days.
Ebola's long-lasting impact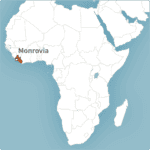 Though Liberia has been officially declared free of Ebola several times (most recently in June 2016), the devastating effects of the outbreak remain. Prior to the epidemic, Liberia was already struggling to improve poor maternal health. The Ebola crisis overwhelmed health facilities and caused widespread panic, making it more difficult for people to receive essential health care, including maternal health services. As a result, more women were without access to emergency obstetric care, likely indicating a growing number of new cases of obstetric fistula.
At the heart of the crisis
Fistula Foundation supports Family Medical Hospital, a facility located in Monrovia that has a respected and capable obstetrics and gynecology team. We provide grant support to this hospital through our long-term partner Women and Health Alliance International (WAHA).
Prior to the outbreak, Family Medical Hospital was providing basic fistula care services with up to six beds available for fistula patients. But as Monrovia found itself at the heart of the Ebola crisis in Liberia, all fistula activities at the hospital stopped. This project is helping the hospital resume and expand its fistula services—not only to help treat the backlog of women who need fistula surgery, but to pave the way for continued fistula care in Liberia.
Meeting challenges and making progress
WAHA reports that one of the biggest initial challenges was re-establishing the community's confidence and trust in health services following the Ebola crisis, which made it more difficult for women to access care. To that end, Fistula Foundation funding supports patient outreach efforts, as well as transportation costs to help women access treatment. Despite considerable challenges, WAHA has been able to treat more than 100 women this year, and expanded their program to a second hospital several hours away, in central Liberia. Funding for this project will also support the purchase of new operating equipment, on-the-job training for local health staff conducted by WAHA's expert surgeons, and additional support for patients before and after surgery, including psychological counseling, nutrition, and physical therapy.
Learn more about how we're helping women in Liberia.
Published: Nov. 14, 2016