Maria learned about WAHA's fistula treatment program through outreach activities conducted in Zimbabwe. When she arrived at the hospital, staff asked her how long she had been living with fistula.
She answered that she was unsure, but thought it had been over 22 years. This meant that Maria had been forced to endure leaking urine and incontinence for more than half her life.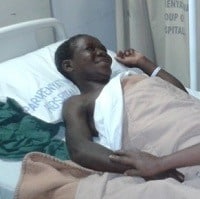 Thanks to expert surgeon Dr. Ambaye Wolde and the help of the local medical staff, Maria was successfully operated on. The surgery freed her from the burden of obstetric fistula and has given her a new lease of life – a life where she is able to focus on spending time with her loved ones and building up strength in her ongoing battle against HIV.