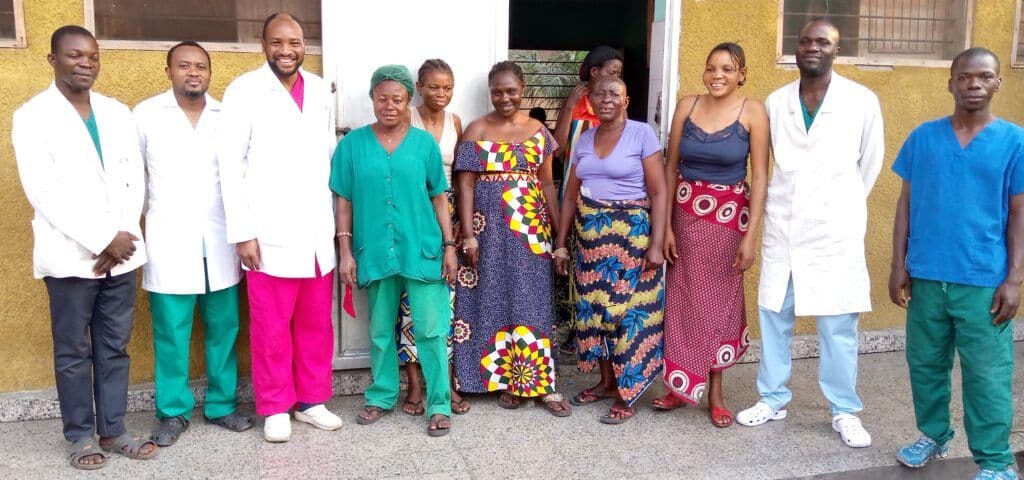 Thanks to the supporters and donors who graciously fund our mission, we're expanding our services to new regions of the world. This year, despite continued challenges in the field due to Covid-19 outbreaks, we've added eight new partners—the most we've ever added in a single year—to our network of trusted medical experts.
The map below shows how each partner extends our network of care to serve more women with fistula. Each new partnership brings us physically closer to women who need fistula treatment and increases our capacity to provide life-changing surgeries. Each organization on this list aims to provide between 40 and 120 fistula surgeries during its first year of partnering with us. More surgeries equals more survivors who can return to their lives, and their communities.
In 2022, Fistula Foundation will be seeking opportunities to engage more new partners that will further extend the reach of its network.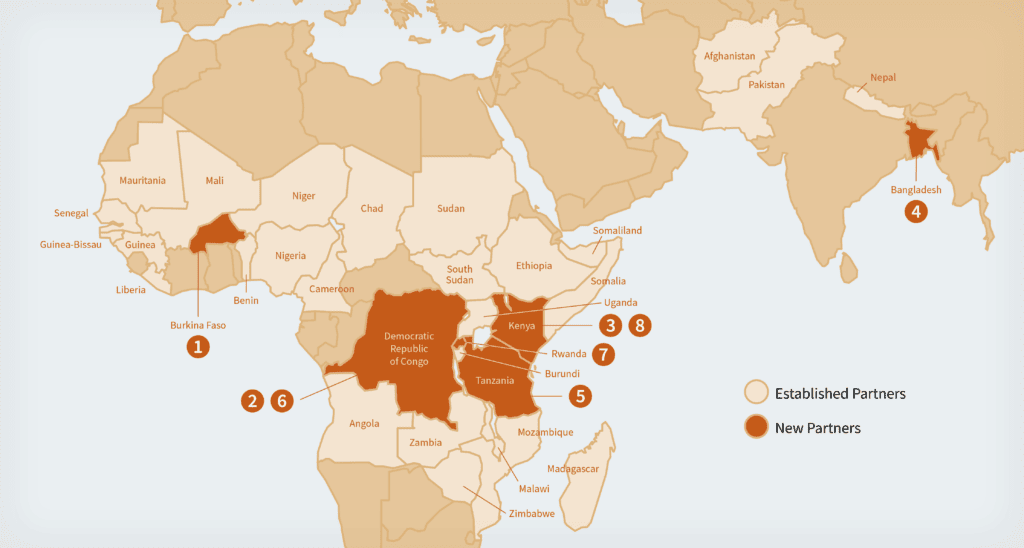 1. Association Renaissance (ARENA) | Burkina Faso 
Dr. Itengre Ouedraogo leads the team at ARENA, who joined our network of care last spring. ARENA is on track to exceed its 2021 surgery targets. 
2 FisPro DRC | Democratic Republic of Congo
Dr. Lucien Wasingya Kasereka leads the team at FisPro DRC, who also joined our network of care last spring. The team has been busy performing surgical outreach at its primary facility in the rural town of Butembo, located in North Kivu, and at FisPro's partner facility in Kinshasa.
3. Garissa County Referral Hospital | Kenya
Garissa County Referral Hospital (GCRH) will expand the reach of our countrywide treatment network in Kenya into the northeastern region of the country. Historically, patients in the region have been served via annual surgical outreach efforts. Through a new partnership (a collaboration between Fistula Foundation, the Garissa County government, and Amref), GCRH will perform surgeries through routine services in Garissa.
4. Kumudini Medical Center | Bangladesh 
Kumudini Women's Medical College and Hospital is located in central Bangladesh. Kumudini Hospital will provide routine fistula services performed by Dr. Bilkis Begum Choudhury, who was partly trained under world renowned fistula surgeon, Dr. Thomas Raassen. 
5. Nkinga Referral Hospital | Tanzania 
Nkinga Referral Hospital (NRH) previously collaborated with one of our existing partners in Tanzania, Comprehensive Community Based Rehabilitation in Tanzania (CCBRT). NRH's fistula program was launched in 1983, and the hospital currently has a dedicated fistula surgeon, Dr. John Suleiman Mahona, who will receive additional support from Dr. James Chapa of CCBRT. 
6. Rwankole Hospital | Democratic Republic of Congo
Rwankole Hospital comes to us by recommendation of Gillian Slinger, a Fistula Foundation board member. The hospital's lead surgeon, Dr. Claude Idring'i Malasi, is an International Federation of Gynecology and Obstetrics (FIGO) Fellow. Dr. Claude was trained at Panzi Hospital, one of our partner organizations, in 2014 and completed advanced training at Hamlin Fistula Hospital in 2017. 
7. Ubi Caritas | Rwanda 
We're excited to again offer care in Rwanda (our last project in the country was in 2014) through a new partner, Ubi Caritas. The organization, whose name means "where love is found," was launched last year by Dr. Victorien Ndacyayisenga, a FIGO-certified surgeon. 
8. Vihiga County Referral Hospital | Kenya
Vihiga County Referral Hospital (VCRH) aims to provide routine fistula surgery once it has a resident fistula surgeon. Until then, Dr. Charlotte Polle, a fistula surgeon and a Fistula Foundation board member, will visit VCRH for quarterly surgical outreach efforts and will also provide mentorship to Dr. Maureen Okango, an ob-gyn at VCRH.
Published on October 29, 2021