At only 16 years old, Seema developed obstetric fistula and her in-laws tried to have her killed so that their son could marry another woman. When their attempts failed, they threw her out of  their house in a snowstorm.
Seema's troubles began when she went into a wrenching labor at her rural home in Pakistan. It lasted for seven days. Seema's village is very remote, and she did not have access to emergency medical care. Miraculously, she survived, but the traumatic experience left her leaking urine. No one in Seema's family or community was aware of obstetric fistula, or the fact that it is a treatable medical condition. Many believed that she was cursed or being punished by God.
Her in-laws began to treat her cruelly, and even asked a doctor to poison her. One night, during a snowstorm, they put her in a car and told her to never come back. Thankfully, Seema's loving father took her in and helped her manage her condition. Despite his best efforts, however, Seema continued to suffer for four years. "I had nothing, " she recalled. "I couldn't afford sanitary pads, so I used shopping bags day and night."
After four years of suffering, Seema met a healthcare worker who referred her to Koohi Goth Hospital, Fistula Foundation's partner in Karachi, Pakistan. Finally, they began to feel a glimmer of hope. Generous supporters like you covered the cost for Seema and her father to
travel from their rural home to the hospital. There, she received a warm welcome from an experienced staff of nurses, midwives, and certified fistula surgeons.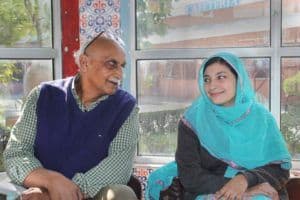 Koohi Goth Hosptial is led by Dr. Shershah Syed, an expert surgeon and leading advocate for women with fistula in Paksitan. When he met Seema and her father in the fistula ward, Dr. Shershah was moved by their extraordinary story. Seema's injury was severe and required
multiple operations to be corrected—so Dr. Shershah saw to it personally that she got the care she needed.
Today Seema is completely healed! She is now 20 years old, and hopeful about her future. When our team met up with her, Seema was about to be discharged from the hospital, and was making plans to go back to school to become a midwife.
Published: 3/10/21
An Update from Seema from Pakistan