Fistula Foundation and our long-term partner surgeon Dr. Mulu Muleta are featured in this article in Newsweek. For more information about our work with her through Women and Health Alliance International in Ethiopia, click here.
The Afterbirth Miracle
By Rob Verger
It's late June, but it's chilly in Asella, Ethiopia—the city is higher in altitude than Denver—and the patients in the hospital are wrapped in blankets. Dr. Mulu Muleta puts on a white doctor's jacket and starts making her rounds. She checks in with each woman, holding the patient's hands, or touching her shoulders, as they speak.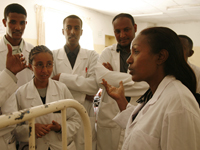 One patient, Hawa, wears a bright purple and white gown. She's 33 years old. When she was 16, she lost her first baby and developed an obstetric fistula, a condition sometimes caused by a very prolonged labor, when the baby's head presses on the nearby tissue, causing it to lose its blood flow and die. That can create a fistula—it's the Greek word for hole—between the vagina and the bladder or rectum; the urine or feces (or both, in the case of a double fistula) then trickles out through the vagina.
This results in a double tragedy: In 90 percent of obstetric fistula cases, the baby is stillborn. For the mother, the condition causes chronic incontinence—a form of prolonged torture—and stigmatization.
Hawa lived with her fistula her entire adult life, bearing three children successfully despite the injury. In the hospital today, she is still wearing a catheter after having surgery to repair the damage caused by the fistula. Muleta, who estimates she has performed more than 10,000 of these procedures, is one of the best in the world at it.
Read the full article on Newsweek.com or read it in Spanish in Newsweek en Español.
Published: Oct 13, 2014