Last week, I updated you on the status of our partners at Cure Hospital in Kabul, Afghanistan. Today, I have fresh news about the incredible work that providers there are doing amid the recent turmoil in that city.
The political situation in Afghanistan remains uncertain, and the security situation is fraught with danger—as we saw last week with the explosion in Kabul that killed 13 U.S. service members, along with scores of Afghan civilians. Yet doctors and other staff members at Cure Hospital press on. Since the Taliban took control of Kabul in mid-August, the hospital has admitted more than 120 patients, delivered nearly 100 babies, and performed more than 90 operations, including surgeries to treat four women with fistula.
Equally impressive is the remarkable dedication of the Cure team in Kabul. Last week, about 20 members of the senior leadership team met to discuss their plans. All of them affirmed their desire to stay in Afghanistan.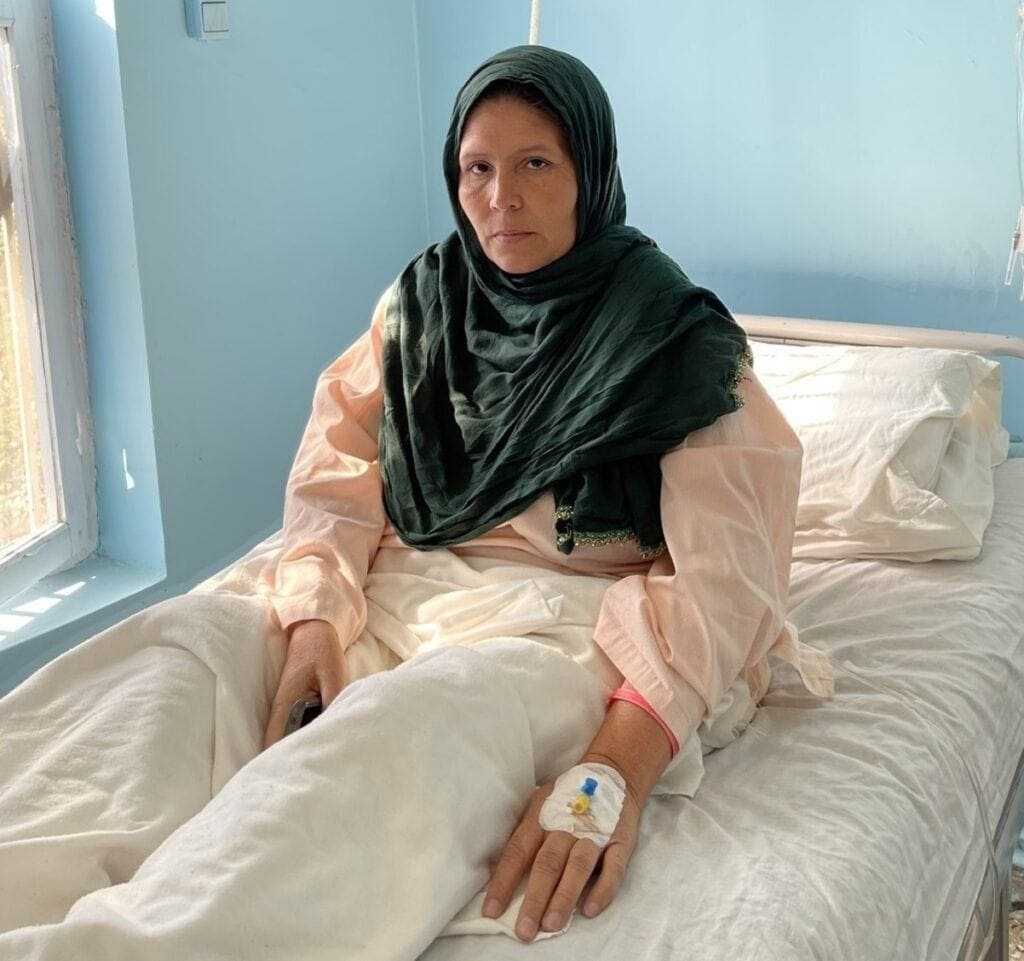 Every patient who enters Cure Hospital during this difficult time has a compelling story to tell. Let me share the story of Bibigul, one of four women who recently underwent surgery for fistula at the hospital. Here, lightly edited, is an account sent to us by Dr. Homa Dost, one of the team of brave female surgeons who have continued to deliver care even as violence erupts in their strife-torn country.
Bibigul is from a farming community in northern Afghanistan (Kunduz Province). She was married to her cousin when she was 15 years old. She had 12 successful home deliveries. When contractions started for her 13th delivery, she stayed at home with her mother, believing that everything would be okay. Unfortunately, after two days of labor, she still had not delivered the baby. A traditional birth attendant recommended that she go to the [local] hospital, where they performed a cesarean section on her. After the operation, she discovered that she was constantly leaking urine.
The local hospital lacked the skilled surgical capacity needed to treat the fistula. Doctors there advised Bibigul to go to Cure Hospital, but the ongoing war kept her from traveling to Kabul. So she stayed home, avoided social contact, and suffered both physically and psychologically. The report from Dr. Dost continues:
Eventually, she and an attendant braved the hazardous journey to Cure Hospital, where she underwent a fistula repair days after the fighting ended in Kabul. She is recovering in the hospital and undergoing psychological counselling. We are hopeful that she will soon be able to return home dry and continent.
Reflecting on the time before she learned about Cure Hospital, Bibigul said, "I thought, 'I am the only person with this terrible injury.'" Not only do facilities like Cure relieve women of the pain of fistula; they also relieve patients of the burden of loneliness.
I am hopeful that leaders of the new government will recognize the value of allowing doctors to continue performing fistula repair surgeries and other life-changing procedures. I am also enormously thankful to you for helping us preserve a lifeline of support for patients like Bibigul and surgeons like Dr. Dost.
Gratefully,
Kate Grant
CEO, Fistula Foundation