Staying determined in the face of devastation
Malawi, a landlocked nation in southeast Africa, has had a disastrous 2023. Early in the year, the country was pummeled by a natural disaster and a devastating disease outbreak that threatened the ability of our partner—Freedom from Fistula Foundation Malawi—to provide life-changing repair surgeries to women in need.
Freedom from Fistula Foundation Malawi has been a Fistula Foundation Partner since 2015. In the first quarter of this year, heroic surgeons and staff members at this partner's facility—the Fistula Care Centre in Bwaila Hospital—performed 51 repair surgeries amid a cholera outbreak, a record-breaking cyclone, rampant inflation, and a break-in at the hospital.
In January, an ongoing cholera outbreak deterred fistula patients from seeking medical attention at the center. In January and February, heavy seasonal rains exacerbated the outbreak and further hampered patients' ability and willingness to travel for care. Then March ushered in an even bigger challenge: Cyclone Freddy—the longest-lasting tropical cyclone on record—pummeled the country for 34 days. In five weeks' time, the cyclone dumped one year's worth of rain on Malawi. (Surrounding countries also faced devastation, but Malawi was hit particularly hard). More than 500,000 people were displaced, and several hundred died during the historic weather event.
When the storm finally ceased, Freedom from Fistula Foundation Malawi attempted to reach out to former patients and ambassadors, but many of them had lost their phones in the cyclone. The organization set up an emergency fund to distribute cash to patients and ambassadors to help them purchase basic necessities. Supplies were limited and expensive. The inflation rate rose to 27%.
Other circumstances beyond our partner's control threatened to stop its important work. In February, there was a break-in at Freedom from Fistula Foundation Malawi's operating theater, and surgeries stopped for one week while staff took stock of the damage and deep-cleaned the facility. Then, in March, a part on the team's anesthetic machine broke, and a replacement part was not readily available. Yet again, surgeries were delayed for a week while the organization worked to acquire a new machine.
Despite a seemingly unending series of challenges, our partner—ever resilient—aims to provide 300 repair surgeries this year. Healthcare workers at Freedom from Fistula Foundation Malawi are unrelenting in their efforts to provide life-transforming care to women who have suffered the devastating consequences of life with fistula. Our partner in Malawi is determined to keep going, because these women, in addition to living with fistula, have survived the same disasters that rocked their entire country, all while experiencing the everyday hardship of extreme poverty.
Like our other partners, the team at Freedom from Fistula Foundation Malawi finds strength in the generosity of our donors, and in the power of healing that lifts patients out of misery and into a promising life.   
One Woman's Story:
Emilia from Malawi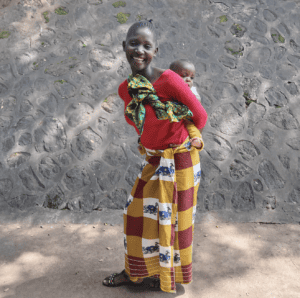 Emilia, a 26-year-old woman from Malawi, developed fistula after undergoing a faulty C-section during the birth of her second child. Her baby boy survived the ordeal, but she was left leaking urine.
During the five months that she lived with fistula, Emilia felt ashamed and uncomfortable. She experienced constant stomach pain that left her sick and weak. Her husband left her and married another woman in her village. Emilia didn't want to associate with anyone. But eventually she returned to the hospital where she had delivered her child, and sought help. Healthcare workers there recognized her condition and referred her to our partner Freedom from Fistula Foundation Malawi for repair surgery at Fistula Care Centre in Bwaila Hospital. After undergoing that operation, Emillia was able to regain her strength—and her confidence.
During her stay at the center, Emilia learned about income-generating activities and participated in educational classes to learn skills such as knitting. She also received a solar-business unit, which allows her to charge cell phones for people in her village. In addition to the money she has made from charging cell phones, she has sold several knitted items for a profit.
"I am very grateful for everything that the center has done for me," said Emilia. "I did not expect to receive the things I got. They have truly transformed my life. I am able to make money and take care of my boys. I did not know what I was going to do to support them, since my husband—who was the provider—left me. Please continue healing women like me. You have brought blessings in my life. I thank God every day."
Published on June 29, 2023