The legendary Grammy-award winning singer-songwriter, Paul Simon, performed an intimate concert benefiting Fistula Foundation. The October 1st event, held in New York City, at the home of Katja Goldman and Michael Sonnenfeldt, raised over $150,000 to fund fistula surgery for women in need.
The event came about because of a friendship formed nearly a decade ago between Paul Simon and visionary ethicist and Princeton professor, Peter Singer, founder of The Life You Can Save, when both men were selected as one of "100 People Who Shaped the World" by Time magazine.
Mr. Simon offered to do a concert to benefit a favorite organization of The Life You Can Save and when Mr. Singer described our work, Mr. Simon chose Fistula Foundation. We could not be more honored, by their support or by the efforts of the organization's executive director, Charlie Bresler, in making the event possible.
Evening hostess, chef and cookbook author, Katja Goldman, prepared a meal to remember for the guests, filled with the love and generosity that was the hallmark of the evening.
Fistula Foundation CEO, Kate Grant, a lifelong fan of Paul Simon's and devotee of Peter Singer's effective altruism movement, said that the event was a career highlight: "The living room was filled with exceptionally generous people there to hear Paul Simon and help women in need. I think I had bruises from pinching myself. To be recommended by Peter Singer, whose work deeply inspires me, and hear music from a man whose brilliance has brightened my life over decades, as he has millions around the world, was simply priceless."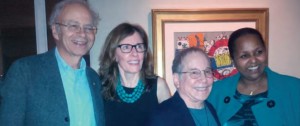 Publish on: Nov 4, 2015