Fistula Foundation is proud to be a partner of the Campaign to End Fistula.
Fistula Foundation CEO Kate Grant was interviewed by Voice of America for this Q&A about obstetric fistula in Asia. It aired on VOA's radio program, Daybreak Asia, on March 17, 2014.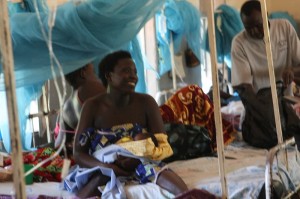 NEW YORK — The stories are heartbreaking – pregnant women in remote rural areas in Asia enduring a long or often difficult labor, some losing their babies. The women are left with incontinence and leaking wastes from obstetric fistulas. Some husbands abandon their wives, while others try to find help, but the road is long and the women are often ostracized by their communities for these birth injuries.However, the Fistula Foundation is one of the groups that have been supporting women, telling every woman with a fistula that it is possible to be cured and to feel hopeful once again. VOA's Frances Alonzo spoke with Kate Grant, the CEO of the Fistula Foundation.
GRANT: It's basically a hole between an internal organ and the outside world that shouldn't exist. In this case, it's holes in bladder, vaginas, sometimes rectum that leave a woman incontinent. So again, it's a childbirth injury that occurs because women don't have access to emergency obstetric care that leaves them incontinent. The good news is most of the time those fistulas can be sewn up by a trained surgeon and that woman can be given back continence and health.
ALONZO: How many women in Asia are affected by this?
Click here to read the full interview on the Voice of America website.
Published Mar 17, 2014