Ellen Walton is an artist who uses her creativity to help others. After a career as a real estate professional in northern Virginia, Ellen retired with her husband in Santa Fe, New Mexico. She wanted to find a new way to channel her energy, and began oil painting. Today, she sells her paintings to raise money for charities, including Fistula Foundation.

Several years ago, Ellen decided to leave money in her will to charities that help women in need. Then her husband suggested that she could have an impact right away. So now Ellen directs proceeds from the sale of her work to several nonprofits. Over the past six years, Ellen has made donations to Fistula Foundation to have supported seven repair surgeries. To market her paintings, she sends out a monthly online newsletter. In one newsletter, she told the story of a fistula patient named Salma, and noted that Salma had undergone repair surgery—thanks to donors' generosity. "As you can see, proceeds from the sale of my art do help to make a difference," she wrote.
Thank you, Ellen, for using your creativity to empower women with fistula. You are changing lives!
A Look Behind the Brush
Ellen's goal in her paintings is to evoke emotion in the viewer and to instill a sense of tranquility. She covers the cost of supplies so that all proceeds from the sale of her artwork can go to one of five nonprofits that she has chosen as beneficiaries. In her newsletter, which showcases pieces that she has available for purchase, she relays the stories of women who have been helped by her donations. 
One of Ellen's most notable paintings was inspired by a heartbreaking story. While on a trip to Costa Rica with her friend Ann, Ellen traveled into a rainforest where she met a little girl. The girl was standing in a doorway, proudly holding a doll that she had, by all accounts, received from a charity. The scene stuck in Ellen's mind. A year later, Ellen and her friend returned to the same location, and were devastated to learn that the girl had died from malnutrition. The memory of meeting the girl in the doorway inspired her painting "Girl with Her Doll."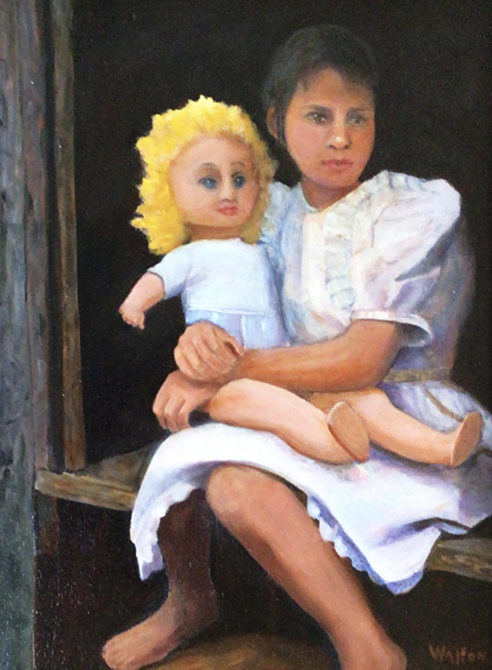 Ellen's works benefit women, children, and families in need across the world.
Published on August 25, 2023