Dr. Fekade Ayenachew, TERREWODE Women's Community Hospital
Dr. Fekade Ayenachew has performed more than 6,000 fistula surgeries throughout his career, which includes 10 years of surgical experience at the renowned Hamlin Fistula Hospital in Ethiopia. 
"There are always surgeries I remember, one of which is the first fistula repair I did," said Dr. Fekade. "It happened when I was a resident. I performed the procedure, assisted by a nurse aide in the Addis Ababa Fistula Hospital. The patient was so grateful, and it was one of my earliest real experiences of my surgeries having given a woman an ardent feeling of joy and blessings to God."   
Dr. Fekade is an obstetrician and gynecologist who serves as medical advisor for the International Fistula Alliance, and as international consultant trainer for TERREWODE Women's Community Hospital (TWCH), our newest partner in Uganda. He is also a member of the expert advisory group for the International Federation of Gynecology and Obstetrics (FIGO) and a certified trainer for FIGO's Global Fistula Surgery Training Initiative.
As an expert fistula surgeon, Dr. Fekade has skills that are in high demand. For three weeks every quarter, he joins resident doctors at TERREWODE to provide FIGO training and expert fistula treatment.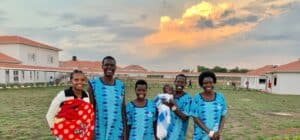 "My role is to provide medical care for complex cases of childbirth injury and other pelvic floor disorders, to train the medical team on essential and advanced clinical skills to treat these patients, and to support the hospital in framing principles and implementing the components of an agreed set of competencies for its development into a center of excellence in the care of women with childbirth injuries," said Dr. Fekade. 
Despite progress, highly trained fistula surgeons are still in short supply in areas where they're needed most. This skills gap keeps Dr. Fekade working in remote regions of Uganda and Ethiopia where fistula remains prevalent. "The need is huge, wherever I go," he said. 
According to Dr. Fekade, truly eradicating fistula will require efforts to stop the condition at its source. "Even if the causes may be different, obstetric fistula is a very sensitive indicator of failed health systems, which are not able to care for women and children—the most vulnerable of the population," said Dr. Fekade. "The best remedy for all these systems is prevention, which must be comprehensive, focusing on preventing maternal mortality and morbidity. But there remain multitudes of women with these injuries, and many more continue to survive with the complex sociocultural, economic, psychological, and physical complications of what should have been a God-given blessing—welcoming the birth of a child.  
"In these mostly low- and middle-income countries, treating one woman at a time is saving one family at a time. But strategic preventive interventions at the systems level are what will save generations to come," Dr. Fekade said.
As a leader in the field of fistula care, Dr. Fekade has a strong vision for the future. To him, progress comes down to providing patients with the highest quality of care, using the best tools and training available. "Efforts to address obstetric fistula need to be reinvigorated and expanded, with further improvements in providing holistic care, utilizing better technology, and [advancing] clinical skills," he said.
Published February 28, 2023