The Female Surgeon Fighting Fistula in Afghanistan
Dr. Atia Sharif Nadi is the head of the obstetrics and gynecology department and a fistula surgeon at our partner Cure Hospital (a Be Team International facility) in Kabul, Afghanistan. In partnership with the International Federation of Gynecology and Obstetrics and Be Team International, Fistula Foundation enabled Dr. Atia to attend a five-week advanced fistula repair training this past spring at the Addis Ababa Fistula Hospital in Ethiopia.
Although the situation in Afghanistan remains tenuous, particularly for women, Dr. Atia is committed to helping the women in her country access the care that they desperately need. She is grateful for the opportunity to train at Addis—training that will strengthen the Cure Hospital fistula program.
"A special thanks to donors and Fistula Foundation [for giving] me this opportunity to serve my people," said Dr. Atia. "It was a motivational and helpful training. I learned a lot from the trainers and [developed] more skills."
Dr. Atia emphasizes the critical importance of high-quality training. Investments in programming for midwifery staff and more advanced training for fistula surgeons, she believes, will significantly improve fistula care in Afghanistan. As a leader who helps to develop the next generation of doctors, she also highlights the collective power of people to overcome adversity.
"Concerning the situation in Afghanistan, with teamwork, we can accomplish much more than we can by ourselves," said Dr. Atia. "Everyone deserves an opportunity to live a free, happy, and productive life."
Her commitment to students is matched by her care for fistula patients. "The first time I saw a fistula patient, I became emotional, and depressed for her and the problems that she tolerates," Dr. Atia said.
It saddens Dr. Atia that many patients' families abandon them, or even tuck them away in a shed, in order to limit shame to the family. So many heartbreaking stories have stuck with her over the years—like the story of Anisa, a 27-year-old woman from Jawzjan province.
A faulty surgery to remove bladder stones—performed when Anisa was just five years old—left her with two fistulas. She began leaking urine uncontrollably.
"She was visibly depressed when she visited the hospital and had lost all hope for a successful treatment," said Dr. Atia. "She was always sobbing, as it is the very reason that she can't marry, even though she is a beautiful girl. Her fistula was the subject of torment and prejudice from her family and village folks."
But thanks to Dr. Atia and the team at Cure, Anisa's luck turned. After living with fistula for more than 20 years, Anisa received repair surgery—and was finally dry. "The patient is overjoyed," said Dr. Atia.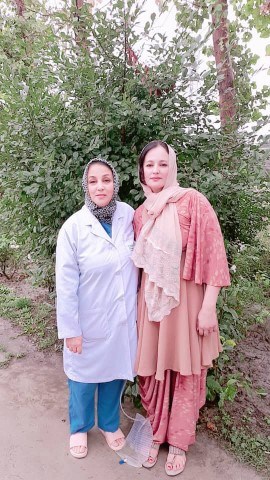 Published on November 11, 2022