By Kate Grant, CEO, Fistula Foundation
Scottish nurse, Pauline Cafferkey, continues to fight for her health in Royal Free Hospital in London, as the Ebola virus ravages her body. Infected while serving as a volunteer nurse for Save the Children in Sierra Leone, Cafferkey has been hospitalized for more than two weeks. Thankfully, the Hospital reports her condition is improving and she's been taken off the critical list. This is, of course, great news for Ms. Cafferkey and her loved ones, with all hoping that she will fully recover soon.
I met Ms. Cafferkey a little over two years ago in Bangladesh, at the Hope Hospital for Women and Children in Cox's Bazar, not far from the Myanmar border. Cafferkey was there, volunteering three months of her life, to bring the priceless gift of health to this underserved community generally, and women suffering from the childbirth injury obstetric fistula, specifically. She is remembered admiringly by the team in Bangladesh for her extraordinary dedication.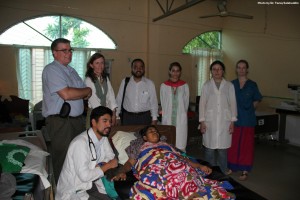 When I heard she had been in Sierra Leone working to save the lives of Ebola patients, I was not surprised. In the last decade, I've had the pleasure of meeting many doctors and nursesin developing countries treating women with obstetric fistula, an injury that produces incontinence, and frequently shame. Until these women are cured they are far too often neglected and abandoned, treated, in the words of Nicholas Kristof of the New York Times, as 'modern day lepers.' I'm continually struck by what these medical professionals have in common: selfless commitment to caring for these horribly injured and marginalized women.
Continue reading on the Huffington Post website –>
Published on: Jan 20, 2015