Towanda is 20 years old and from a rural area just outside of Harare, Zimbabwe's capital city. Four years ago at the age of 16, she became pregnant. When the time came to deliver, there were a lot of complications.
Towanda ended up losing her baby. As if that was not enough, she also began leaking urine and feces through her vagina. Towanda assumed this was a normal occurrence after giving birth and it would soon go away – but it didn't.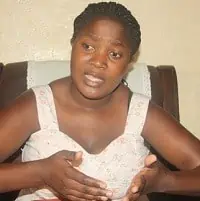 "I tried to seek medical attention and was told that it was obstetric fistula and because of the high costs of corrective surgery, which my family couldn't afford, I never got any help," Towanda explained. Her symptoms were so severe, painful and humiliating that she had to stop going to school. It wasn't just school which she avoided, but all public places in general, for fear of being ridiculed.
Towanda lived with fistula for nearly four years before being put in touch with our partner organization in Zimbabwe, WAHA International. They referred her to Harare for treatment where she received a free (and successful!) repair surgery. Following her surgery, Towanda remarked with a smile, "I am so relieved and grateful that my life is now back to normal as I had lost hope for re-living my life."