A Female Surgeon Speaks about Sisterhood
Fistula care is dominated by male surgeons, and there are very few trained female fistula surgeons in the world. Little by little, alongside partners such as the International Federation of Gynecology and Obstetrics, we're working to change that.
Dr. Maureen Okango is a resident fistula surgeon at Vihiga County Referral Hospital—one of our newest partners in the Fistula Foundation Treatment Network in Kenya. Last year, she received specialized training at Gynocare Women's and Fistula Hospital in Eldoret, along with one-on-one mentorship from Dr. Charlotte Polle, an experienced surgeon within the network (and a member of the Fistula Foundation Board of Directors). This year, Dr. Charlotte will continue to assist Dr. Maureen with complex surgeries at Vihiga, and will provide critical mentorship as Dr. Maureen hones her surgical skills. 
Mentorship is essential to advancing the skills of any surgeon, but it takes on a special importance for female fistula surgeons who work in a male-dominated field. The bond between Dr. Maureen and Dr. Charlotte is strong. They share a love for what they do, and a sisterly bond with the women they heal. 
"The bond with patients is so real, especially when you get a woman whose circumstances mirror your own," said Dr. Maureen.
Dr. Maureen recalls the case of a patient with whom she had a particularly close personal connection. "A certain young lady gave birth the same day I did, and while my son is almost 11 months old, her child never got to see the light of day—never mind the big, recurrent fistula she is battling," she said. "It breaks my heart to think of her situation. It makes me want to do better … to prevent the heartaches that result from mismanaged labor."
Women with fistula "are not children of a lesser God," Dr. Maureen said. "I remember them in prayer, because the burden they carry is too heavy. Thankfully, through Fistula Foundation, their joy has been restored, and many women are happier and content at home."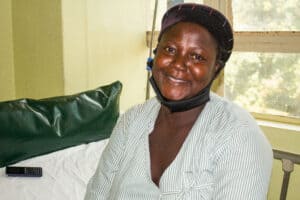 Over the next year, with assistance from Dr. Charlotte, Dr. Maureen will perform 60 life-transforming fistula surgeries at Vihiga. She knows that the healing process for patients starts before—and continues long after—surgical treatment.
"To me, 'love a sister' means listening to women about their challenges, their desires, and going a step further to do everything we can to restore normalcy in their lives. It is about walking with them when they feel lost and all alone. And being their community. And restoring them back to society," said Dr. Maureen.
You can help surgeons like Dr. Maureen restore more women's lives this year. When you make a gift to our Love a Sister program, you are making a commitment to a woman in need—a woman who has suffered, simply for trying to bring a child into the world.
Published on February 24, 2023