Obstetric fistula happens most frequently in rural areas, where emergency medical care is not easily accessible. A woman's risk of developing fistula is also exacerbated by cultural misunderstanding about doctors and surgery.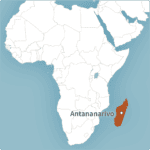 Madagascar faces both of these challenges: its infrastructure is poor, which can make travel to the hospital complicated and dangerous. Also, there is a common Malagasy cultural belief that surgeons cannot be trusted, and operate only to steal patients' organs.
Fistula Foundation's partner in Madagascar, SALFA, reaches rural fistula patients through the reliable network of Malagasy churches, and encourages them to seek fistula treatment. SALFA uses proven methods, including radio announcements and home visits from community liaisons. Once referred, every step of a woman's journey is free, from surgery costs to transportation to rehabilitative care.
After a successful first partnership with Fistula Foundation in 2016, SALFA confidently increased their treatment goals in 2017 to 400 surgeries—four times as many as the previous year! The project is supported in part by Icon Underwear, who have taken a strong stance on corporate social responsibility, and committed a portion of their earnings to Fistula Foundation. We extend our deepest thanks to Icon—and supporters like you!—for enabling this vital project.
Learn more about Icon's story at: www.iconundies.com
This story originally appeared in the Winter 2018 edition of our newsletter, Transformations.
Published: Jan. 1, 2018