Zeinabou comes from a village 100 miles north of Danja, Niger. She was married and became pregnant while still in her teens. As is the local custom, Zeinabou planned to deliver her baby at home because maternity services are not easily accessible.
And since this was her first delivery, custom also dictated that she leave her husband and move back with her parents in order to be under her mother's care. When the time finally came to deliver, her labor was obstructed — the baby would not fit through her pelvis and she remained in labor for days.
Zeinabou's family finally took her to a hospital where she underwent an emergency Cesarean section. The operation probably saved her life, but the child, her first, was stillborn. Worse still, several days after her surgery, Zeinabou began leaking urine uncontrollably. She had developed an obstetric fistula.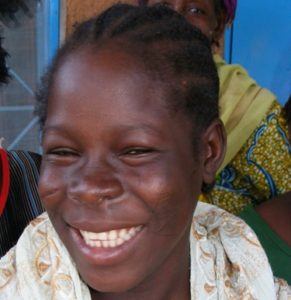 Zeinabou was continually wet from the constant drip of urine. Her husband forced her to move back with her parents. Her mother tried to fix her problem with traditional medicinal treatments but, of course, these remedies did not work. At only 20 years old, Zeinabou lived in misery. She had given up hope and feared she would live isolated from family and friends forever, with no opportunity to work and support herself.
Then, one day, she heard a story on the local radio station announcing the opening of a fistula center. Filled with renewed hope, Zeinabou and her mother made the long trip south to Danja. The surgeons at Danja Fistula Center were able to successfully repair her fistula and give Zeinabou her life back. She returned home, finally able to resume the life she had known before.