72 year old Aidah lived with obstetric fistula for an astounding 41 years before accessing treatment at Evangel Vesico-Vaginal Fistula Center in Jos. Her family stuck by her side the entire time, and recounted to hospital staff how fistula severely limited her (and their) opportunities and success in life:
Theirs was a very happy family until it was time for Aidah to deliver her sixth child. Unfortunately, the sixth delivery did not go as smoothly as the other five. The labor was prolonged and obstructed, and she was taken to the nearest hospital. Doctors performed an emergency C-section and successfully delivered a healthy baby boy. There was much joy and celebration following the delivery, but it was short-lived when Aidah started leaking urine.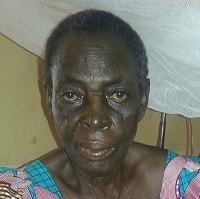 Every effort to stop the leaking failed. The family visited several local hospitals without success. Aidah was stripped of all social, economic and even religious opportunities in the community, and she could no longer work on her farm because of the constant leaking. Her children didn't have many friends, as the other children in the community would tease them for having a mom who was incontinent.
The family clung to hope and continued to visit major local hospitals seeking treatment, but could find none. This eventually drained the family's economy and they resigned to the fact that Aidah's fistula could not be cured.
Some years after she developed fistula, Aidah's husband died. Her late husband's employer wanted to hire Aidah in order to help improve the family's finances, but she was unable to accept because of her fistula. Once she lost all means of income, Aidah's oldest son had to drop out of college in order to care for the family. Her other children were also affected in that they did not have enough money to continue their educations either.
Finally, Aidah heard that fistula repair surgery was available in the town of Jos. Her children discouraged her from trying to go, as they were convinced that her fistula could not be repaired and did not want to get their hopes up. When Aidah heard about an outreach session conducted by Evangel Vesico-Vaginal Fistula Center in a neighboring state, she insisted that her children take her. At the outreach, which was also a mobile fistula repair clinic, she was assessed and diagnosed with fistula. The fistula was successfully repaired and Aidah became continent of urine for the first time in 41 years.
There was a spontaneous outburst of joy and celebration when she realized she was dry, but Aidah's joy was mixed with sadness – joy from regaining her health after 41 years, and sadness for enduring so much for so long. She is glad she can now live the remaining years of life in peace with her children.