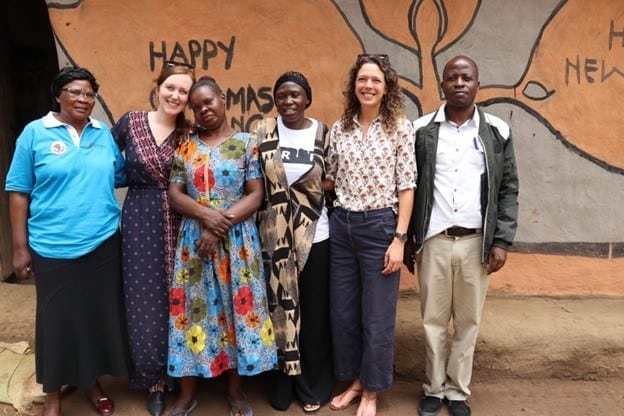 By Jesse Dubow, program manager, Fistula Foundation
I've been working with our program team in Kenya for nearly two years, but this spring was the first time I was able to meet the team in person and witness our Kenyan colleagues and partners in action. It's been three years since I last visited Africa, but this was my first trip to Kenya—the site of our largest country program and our first countrywide treatment network. 
My job as a program manager involves reviewing grant reports from all the wonderful partner organizations we fund, including those in the Fistula Foundation Treatment Network (FFTN) in Kenya. It's one thing to read reports about their work, and it's an entirely different thing to see the magic happening in the field with my own eyes.
The persistence of fistula—a symptom of extreme poverty and gender inequality—is a great injustice. Perhaps my greatest takeaway from this visit was gratitude for working with incredible colleagues who are righting this wrong and enabling transformative change for thousands of women. 
Fistula Care Is a Team Sport
The goal of FFTN in Kenya is to increase access to timely, quality fistula treatment and comprehensive post-operative care for women with fistula in Kenya. Our network model supports women through all stages of their healing journey, in part by building capacity for healthcare providers and community leaders to care for women with this condition. 
By deepening collaboration between providers, FFTN in Kenya enables people and organizations to work together and to share responsibility for a woman's health outcomes. At the center of this complex operation are Habiba Mohamed, our country director for Kenya, and Nelson Musa, our program manager. They work tirelessly to oversee the network's strategy, operations, finances, and impact. Throughout my time in Kenya, I was awed by the dedication and compassion they showed for every fistula patient we met.
I also met a few of the many people and organizations that are vital to FFTN's success.
It starts with outreach organizations, including Women and Development Against Distress in Africa (WADADIA), and Maisha Empowerment Initiative. Through community health volunteers, radio broadcasts, community events, and other strategies, they spread awareness of fistula and find patients to refer to one of the nine treatment centers in the network. The logistics of coordinating a woman's travel across rural areas with limited infrastructure are challenging enough, but this work can also entail navigating complex family and cultural dynamics and making patients feel safe enough to leave home to pursue treatment.
Then, once a fistula patient arrives at a treatment facility, the facility must have the space, equipment, and committed staff needed to provide high-quality care. While speaking with Dr. Hillary Mabeya, an expert surgeon at Gynocare Women's and Fistula Hospital—the most advanced fistula referral center in Kenya—I was touched by the profound sense of responsibility he feels. For many women who come to Gynocare, he is their last hope. But I also learned that no surgeon works in a vacuum. In meeting after meeting, the message that "fistula care is a team sport" was salient. Just as important as a surgeon's skill is the dedication of nursing teams that provide pre- and post-operative care, the theater teams that assist with each procedure, and the administrators who run each facility.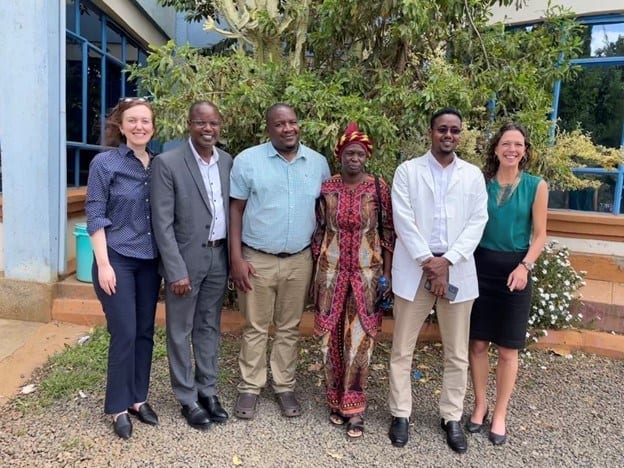 Turning Trauma into Power
Once a woman is discharged from a hospital, outreach organizations support her reintegration through counseling, support groups, vocational skills training, and more. Integral to these programs are fistula survivors themselves. When meeting with a support group, I was struck by how joyful these women were. They welcomed us with songs. They joked around. They have turned their trauma into their power—the power of providing a support system for each other, the power of working to spread awareness, combat stigma, and identify other women with fistula and encourage them to seek treatment.

A WADADIA support group greets the Fistula Foundation team with song at WADADIA's satellite office in West Pokot, Kenya.
Fistula Foundation serves thousands of women each year. Yet behind each surgery that we support is one woman's story. In my work, I have the privilege of learning about fistula survivors from all over the world. Many of their stories have stayed with me for years. The grief and trauma that these women live through seem unbearable. At the same time, their resilience is inspiring, and their stories are filled with a sense of renewed hope.
Joining Caroline on Her Journey
There is an unmatched energy that comes with meeting fistula survivors face-to-face. That was especially true of my encounter with Caroline. Though I've heard many survivors' stories, meeting Caroline this spring was different. Not only was I standing beside her, in her home environment, but I was also privileged to witness a woman who is further along in her healing journey than most patients I hear from.
Caroline developed fistula after undergoing an obstructed labor during the delivery of her 10th child. Miraculously, her baby survived, but she began leaking. Worse than her physical symptoms were the stigma, shame, and mockery she endured, even at the hands of her own family. Her husband ridiculed her. He told her that she was disgusting and that he wished she would die. He would disappear for days at a time until he finally vanished for good, abandoning Caroline and their children.
Caroline spent nine years suffering. 
Then, one day in 2016, she overheard an outreach worker speaking about free fistula treatment. She connected with WADADIA, which referred her to Cherangany Nursing Home for surgery. Finally, after recovering from the procedure, she was continent—but her healing journey was far from complete.
When she returned home, Caroline joined a fistula survivor support group, organized by WADADIA. The group of 30 fistula survivors meet regularly to discuss their lives and support each other's emotional and social recovery. 
After her surgery, Caroline also participated in a tailoring class for six months. When she graduated, she was given a sewing machine. She now owns a tailoring shop in her community, and is able to support herself and her family.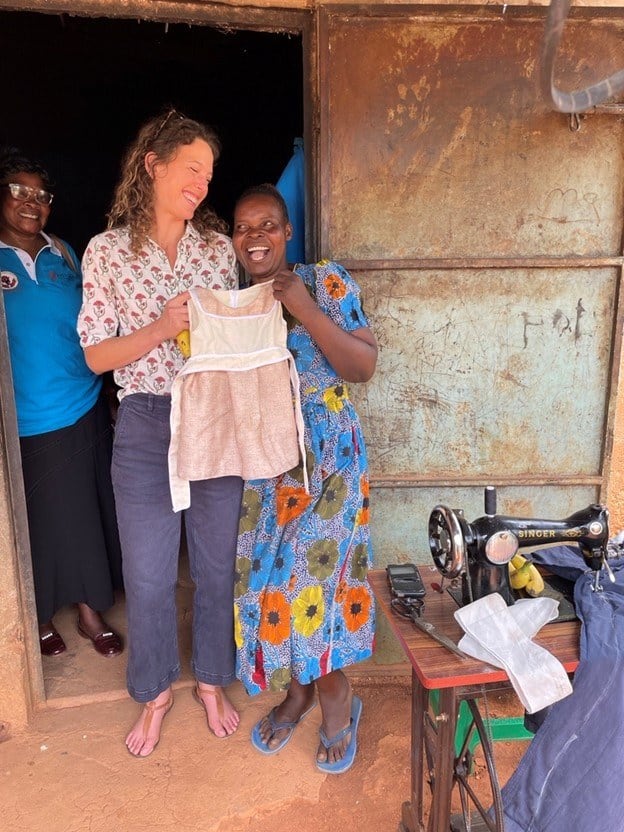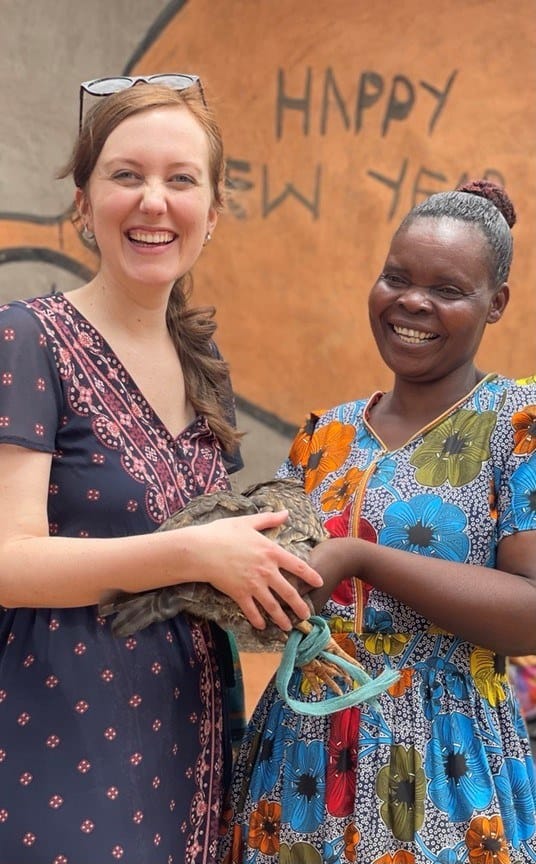 Left: Lindsey Pollaczek, vice president of programs, buys a dress for her niece from Caroline, who sewed the dress in her shop. Right: Jesse Dubow, program manager, accepts a chicken from Caroline.
When we visited her, Caroline proudly showed off the dresses she had made and the two calves she is rearing. To express her gratitude, she gave our team a chicken and some groundnuts.
Caroline's story brought the mission of FFTN in Kenya to life for me. Through robust collaboration, the network enables local health systems to support women through every stage of their healing. I felt so privileged to see the impact of this work on Caroline—one woman who had fistula and who now has a hopeful future.
Published on May 10, 2022. This post was edited after original publication.