Fistula—of any kind—is devasting. Traumatic fistula, a condition often caused by sexual violence, is on a different level.
Consider the case of Elizabeth, a 13-year-old girl from Jos, Nigeria.
Her mother, Deborah, shared the young girl's story with us. 
Elizabeth (whose name we changed to protect her privacy) began leaking urine as a toddler, around the age of three or four. Because she was so young, Elizabeth's parents were not concerned about this development, and thought she would grow out of it. But the leaking continued, even after Deborah asked Elizabeth to control herself. "Mommy, I can't feel it," Elizabeth said. "It comes out on its own." Deborah took Elizabeth to a local doctor, who said that the problem afflicting the young girl was a "toilet infection." Elizabeth was given medication, but the leaking continued for nearly 10 years.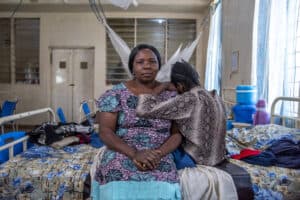 In 2020, while Deborah mourned the loss of two family members to Covid-19, Elizabeth was sent to live with her aunt for a while. The aunt took her to a clinic in her area. Upon examination, a doctor discovered that Elizabeth had been abused at an early age, and that she had fistula. Her young body and spirit had been brutally injured. The physical wounds of traumatic fistula, together with the psychological wounds caused by rape, led to horrendous suffering. Yet now, more than a decade after experiencing this trauma, she saw a glimmer of hope.
Elizabeth's family sought assistance from our partner Evangel Vesico-Vaginal Fistula Center (EVVF) to help repair Elizabeth's fistula. For more than a year, Dr. Sunday Lengmang, the lead fistula surgeon at EVVF, provided medication and counseling to Elizabeth. She then underwent repair surgery. When we last talked to Deborah, Elizabeth was recovering from that procedure.
"I'm 100% hopeful, because I know many have come to this hospital and have found healing. So her own case will not be exceptional. I'm hopeful."—Deborah, the mother of Elizabeth, a fistula patient.
Today, Elizabeth is dry. With help from people like you, she conquered fistula. Along the way, she overcame a horrific act of violence. Women like Elizabeth need our compassionate support. We cannot do this work without you!
Published on June 29, 2023