This article originally appeared on The Huffington Post.
By Kate Grant, CEO, Fistula Foundation
Just outside of downtown Eldoret, a large city in western Kenya with a population of about 300,000, you will find a small building tucked away beneath a giant Jacaranda tree, heavy with purple blossoms. If not for the sign out front welcoming visitors to Gynocare Fistula Center, you might think you were staring at an old house – and you'd be right.
You see, at the helm of Gynocare Center is a heroic and soft-spoken Kenyan obstetrician gynecologist named Dr. Hillary Mabeya. He is an excellent doctor, and an even better surgeon. With his talents, he could easily have set up a cushy, lucrative private practice in Nairobi – or even in Belgium, where he completed his Ph.D. – but he didn't. Indeed, his career took him down a much different path.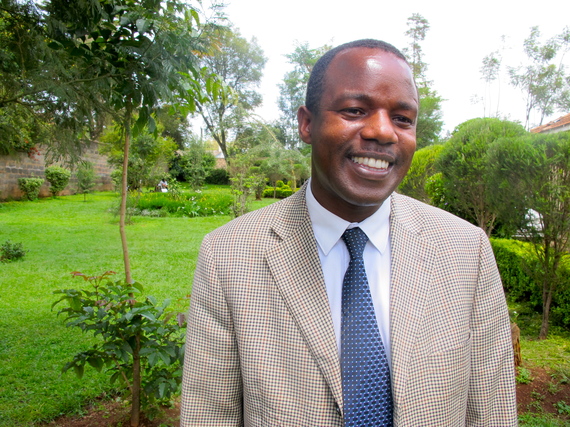 While working in rural West Pokot County, Kenya, as a newly trained medical doctor many years ago, Dr. Mabeya noticed a significant number of women presenting at his facility with obstetric fistula, an injury caused by prolonged and obstructed labor. The injury had left women incontinent of urine and sometimes also feces. They were in desperate need of assistance, but Dr. Mabeya could not do anything but send them home and tell them to wait. In some cases, the women he sent home had to wait for a year until a Nairobi-based surgeon could visit the hospital for a few days to provide treatment. For Dr. Mabeya, meeting these women only to send them away in such an unfortunate state was profoundly troubling, and deeply unjust.
So, after obtaining his Masters and Ph.D. in Obstetrics and Gynecology and training as a fistula surgeon at the acclaimed Addis Ababa Fistula Hospital in Ethiopia, Dr. Mabeya settled in Eldoret and did what many of his colleagues thought was insane: he rented out an old, dilapidated house with the dream of turning it into a fistula treatment center.
Armed with a little elbow grease, ingenuity and a lot of determination, Dr. Mabeya's dream was finally realized when Gynocare Center officially opened in 2011. Today, what was once the living room of the house now serves as the reception area, and the former bathroom is now a laboratory. In the operating room, you can still see the old fireplace in what used to be the kitchen.

I am fortunate to know Dr. Mabeya and to have seen, firsthand, the incredible work that Gynocare is doing for the women of Eldoret and beyond. Never one to boast about what he has accomplished with an old house and a little TLC, I'll step in and brag for him: as a result of his vision and skill, Gynocare is now recognized as a center of excellence throughout western Kenya for its high level of quality treatment, patient care, and training. Since its doors opened, 1,500 women suffering from fistula have been healed by Dr. Mabeya's capable hands, and countless other women have received other critical health services, like cervical cancer screening, skilled assistance during childbirth, and OB/GYN care.
Restoring the health of fistula patients is his life's mission, and it is not uncommon to find Dr. Mabeya in the operating theater at 11pm on a weeknight, or early on Saturday and Sunday mornings. And he is working to help train the next generation of fistula surgeons in Kenya; his current facility is the only one certified in Kenya as an official training site by the International Federation of Gynecology and Obstetrics.
But despite his commitment, it has become challenging to help all the women who need treatment in his current facility. This is still a rented property, and Gynocare's success has prompted Dr. Mabeya's landlord to quadruple his rent, causing financial strain. The landlord has also forbidden construction of any additional buildings on his grounds, so Dr. Mabeya has had to get creative with space: counseling services are offered outdoors since there is no indoor space available, and the facility's reintegration center – which provides education and skills training that can help a woman find work after she leaves – is housed in a crude corrugated tin shed affixed to the side of the main building. Most importantly, with only 24 patient beds available and no room to expand, women must wait for treatment.
Dr. Mabeya wants to do more. We want to help.
Fistula Foundation has committed to building Dr. Mabeya the new fistula hospital that women in Kenya deserve. When complete, this new three-story hospital will immediately double the number of patient beds available, with room to grow. There will be an additional operating room so more women can get treated in a shorter amount of time, and more operating room means more space for additional surgeons to be trained in fistula repair. And finally, the new hospital will offer dedicated space for an extensive counseling center, so women can heal emotionally and spiritually, as well as physically.
But you might want to hear about the new hospital from Dr. Mabeya himself:
If you'd like to learn more, visit Fistula Foundation's website.
Kate Grant is CEO of Fistula Foundation, which funds treatment of the childbirth injury obstetric fistula in more than 20 countries throughout sub-Saharan Africa and Southeast Asia. Follow the organization on Twitter at @Fistula_Fdtn. Donate today at fistulafoundation.org to help build Dr. Mabeya's hospital and #EndTheWait for women who are suffering.
Published on: Sep 28, 2015