Veteran fistula surgeon Dr. Andrew Browning answers the call in Tanzania
Dr. Andrew Browning has cared for more than 12,000 fistula patients over his decades-long career as an expert fistula surgeon. When he started his career, only a handful of surgeons trained in fistula care were operating on women across Africa and Asia. Now, thanks to training, outreach, and improved access to maternal healthcare, hundreds of trained fistula surgeons are working in areas of high need.
While Dr. Browning has operated in many countries—including Ethiopia, where he conducted surgeries at Addis Ababa Fistula Hospital, the renowned facility founded by Catherine and Reg Hamlin—his most recent endeavor to help fistula patients involves providing free fistula care to women in Tanzania.
In 2013, Dr. Browning  founded Maternity Africa, a nonprofit organization that offers free maternal healthcare services to women across Tanzania. Maternity Africa is one of Fistula Foundation's partners in Tanzania, and Dr. Browning is a trusted medical advisor who provides guidance and support to our program team and our network of partners.
The Healing Touch of Holistic Care
At Kivulini Maternity Centre, the flagship facility of Maternity Africa, fistula patients receive the holistic care that they need to heal physically, emotionally, and even economically. As a "center of excellence" in fistula care, Maternity Africa provides routine fistula surgeries, and also hosts several outreach efforts each year to find patients and refer them to Kivulini for treatment. During these outreach visits, health workers teach communities about fistula and provide guidance on safe motherhood practices.
This past year, Maternity Africa exceeded its annual surgery target. Its goal was to treat 150 women. Instead, it provided life-transforming surgery to 180 women.
According to Michael Hynds, country director for Maternity Africa, this overachievement is the product of building local capacity. 
"The whole idea, really across all of our international involvement, is effectively to work ourselves out of a job—so that we are not needed there anymore," said Hynds. "And building local capacity—training local surgeons—is fantastic. They will be the ones who will be around locally in Tanzania and elsewhere, long after we're gone."
Hynds and Dr. Browning recently visited the Fistula Foundation team in San Jose, California, and presented an overview of what's on the horizon for Maternity Africa.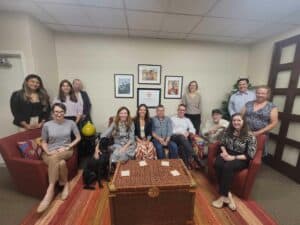 Key areas of focus include training and rehabilitation. Maternity Africa plans to train local doctors in conducting safe C-sections to prevent the occurrence of iatrogenic fistula, and to continue training three of its surgeons in effective fistula care. 
For women who receive repair surgery, psychological counseling and training in entrepreneurship can help them start a new chapter in their lives. Maternity Africa currently has a full-time social worker on staff, thanks partly to funding from Fistula Foundation, and it hopes to hire an assistant social worker in the near future.
"Wherever We Go, … We Find [Patients]"
Since opening its facility in the Arusha region of Tanzania in 2018, Maternity Africa has made considerable progress toward treating women with fistula. But the need is still immense, as is evident when the organization operates surgical outreach efforts, also known as "fistula camps."

"In 2020, we had 99 women turn up all at once for a fistula camp," said Hynds. "We had capacity for around 40, but because we could only have one camp in 2020—because of pandemic restrictions—we were suddenly inundated. We were able to operate on 68 of [the 99 women], and had an 89% success rate."
Dr. Browning sees firsthand the critical importance of continued support from donors. "Wherever we go, when we look for patients, we find them. So please donate. It's money well spent to completely transform someone's life and [to train doctors] as well," he said. "We need more doctors who are skilled in this. It's not an easy surgery. You should only do it if you've been trained properly, because if you do an operation and you haven't been trained properly and if the operation fails, then it just makes it so much more difficult to get it right the second time."
Over the next year, Maternity Africa plans to provide 150 repair surgeries to women in Tanzania, although Browning, Hynds, and their colleagues hope that the organization will again surpass that target. When you support Fistula Foundation, you support their incredible work to find, treat, and rehabilitate women with fistula.
Published on September 14, 2022