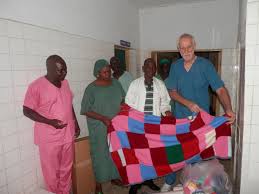 Some of the unsung heroes in the fight against fistula are the surgeons who dedicate their lives to performing life-transforming fistula repair surgeries for women in need. At 73 years old, Dr. Kees Waaldijk is one surgeon who has truly gone above and beyond…and he's not showing any signs of stopping!
Considered to be one of the most experienced fistula surgeons in the world, Dr. Waaldijk has performed an incredible 23,782 repair surgeries throughout his career over the last 30 years. He is currently the chief surgeon of the Nigeria National Fistula Program, which operates at nine sites in Nigeria and an additional four sites in neighboring Niger. It is the largest obstetric fistula surgical and training program in the world and has provided over 43,000 surgeries to women with obstetric fistula since its creation in 1983.
Dr. Waaldijk is also a master trainer in the International Federation of Gynecology and Obstetrics (FIGO) surgeon training program, and has trained 402 doctors and 375 nurses/midwives in obstetric fistula treatment. The information he has collected over the years has been used to research different types of fistula, the effectiveness of various operating techniques, and even to predict results in future patients. Dr. Waaldijk is committed to evidence-based practices and documentation of results. He compiles detailed patient logs and gives each patient her medical history and operation report in a plastic-covered booklet.
Although the Nigeria National Fistula Program is largely government funded, current streams of funding are not sufficient to ensure the continued, uninterrupted availability of fistula surgery throughout each of the program's sites. Fistula Foundation is proud to have provided supplemental funding of over $400,000 to the Nigeria National Fistula Program since 2012 to support free surgeries, surgeon training, and equipment upgrades.
The poor maternal health care indicators in Nigeria reflect the pressing need for fistula services throughout the country and continue to inspire Dr. Waaldijk's work every day. Despite the country's recent history of regional conflict and instability, he has remained dedicated to helping women in need access repair surgery. Needless to say, Dr. Waaldijk is one of Fistula Foundation's true heroes!
This article was originally featured in our Winter 2014 newsletter. Click here to read the entire newsletter.
Publish on: Nov 26, 2014