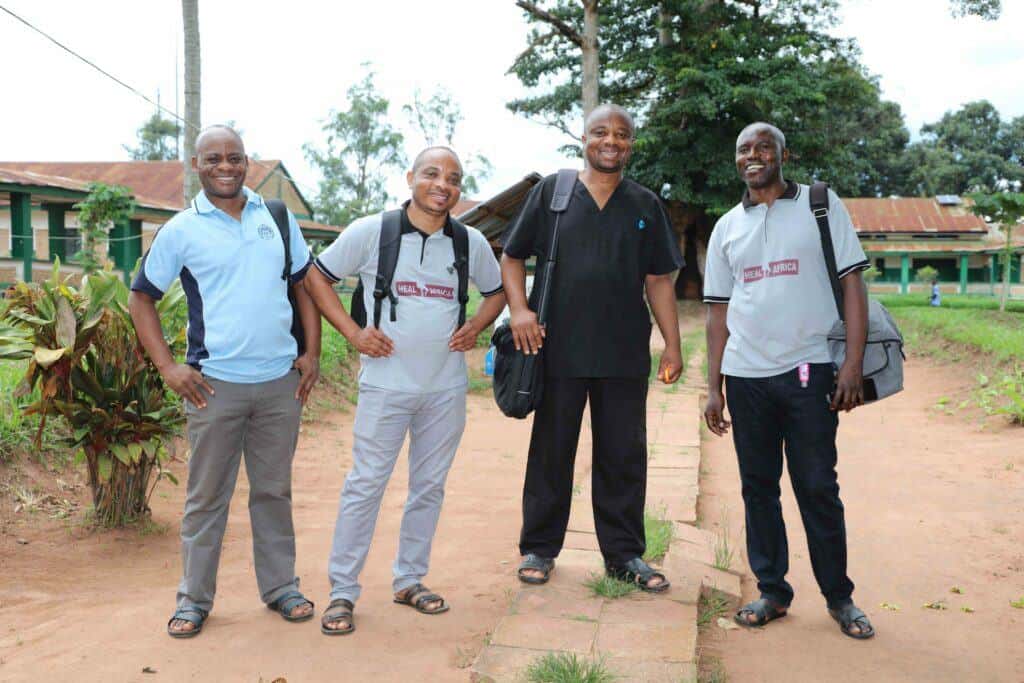 Recently, we sent a message to our 68 partner organizations to thank them for their unwavering commitment to fistula patients in 2021, and to communicate the exciting milestones that we collectively achieved last year. The heartwarming notes we received in return are too inspiring to keep to ourselves. You can find several of the thank-you messages below, lightly edited for clarity.
We hope you can take a few moments to read the remarks of our healthcare heroes. Support from generous donors continues to enable our partners to carry out their work. 
Dr. Andrew Browning (Visiting Surgeon)
"9,000 operations—that's incredible, and congratulations. Behind that is all the community outreach and education. Lots of good work [is being] done and it's a privilege to play a small part."
Dr. Yousuf Khan (Cure Hospital, Afghanistan)
"I would like to use this opportunity to thank you for your ongoing support of our work here in Afghanistan, particularly during these critical situations that our country is going through. We really appreciate the generous support from the Fistula Foundation. 
Once again, on behalf of Cure Hospital/Be Team International and those women and children that received care through your support, I want to thank you for the extra support that we received through your organization, and congratulate you for the new milestone that you achieved during this year. We really enjoyed our partnership with FF and are looking forward to continuing to improve it."
Dr. Bilkis Begum (Kumudini Women's Medical College and Hospital, Bangladesh)
"We are so happy to work with Fistula Foundation.
You know, obstetric fistula patients are the poorest people all over the world. So without your support, it's impossible to make this world fistula-free.    
It will be our great pleasure if we can continue the partnership with you.
Stay blessed."
Dr. Christine Amisi (Panzi Hospital, Democratic Republic of Congo)
"Your message goes straight to the heart. It gives me more energy to help women in pain.
Thank you too because you were sensitive to the cries of women in distress and you came to their rescue to provide them with adequate care."
Dr. Justin Paluku (HEAL Africa, Democratic Republic of Congo)
"Caring for fistula patients is my passion and every day I feel like I still have to do more for these patients. The skills and the knowledge that I received from God are to be used to restore the dignity of the fistula patients. 
Thanks for the support you continue to provide to help me help fistula patients in the DRC. 
May God continue to strengthen the partnership between the Fistula Foundation and HEAL Africa.
Every blessing!"
Dr. Lucien Wasingya (FisPro DRC, Democratic Republic of Congo)
"Thank you so much for the updates and best wishes. Congratulations for all the work you are doing.
We are also so happy and grateful for your support. We really appreciate it and we are so happy being among your partners. We look forward [to] working with you again in 2022."
Dr. Nashina Admani (Bomu Hospital, Kenya)
"Thank you for the kind words and encouragement. The Bomu team appreciates your continuous support to make this program a success. We shall continue to work with dedication in the coming year."
Dr. Hillary Mabeya (Gynocare Women's and Fistula Hospital, Kenya)
"We have come this far and changed thousands of lives for the better.
I feel encouraged every time I see these women beginning a new life.
I am always encouraged by your generosity and support. 
We look forward to a better year ahead, despite the devastating effects of COVID." 
Dr. Matasi (Cherangany Nursing Home, Kenya)
"I take this opportunity to thank you very much for your support and for trusting us with the fistula clients. We thank God for protecting us against the pandemic as we gave services to the needy. 
Thanks everyone at FF for your time and effort to have the fistula surgeries continue, despite the challenges. We trust that God will lift us to greater heights and our women will receive what they deserve."
Dr. John Omboga (Kisii Gynocare Fistula Centre, Kenya)
"Indeed it has been another challenging year because of the global pandemic, but God has seen us through. 
I want to especially thank you and the entire Fistula Foundation fraternity for supporting us at Kisii Gynocare. Without your efforts and the incredible resources you inject in supporting our work, we could not exist as we speak.
Thank you and we remain committed to transforming lives shattered by obstetric fistula.
We certainly look forward to more collaboration and engagement in 2022."
Dr. Charlotte Polle (Bomu Hospital, Kenya)
"Thank you for your warm wishes.
It has been a pleasure to partner with FF in 2021 to bring back smiles to afflicted women."
Dr. Anthony Wanjala (Kapenguria County Referral Hospital, Kenya)
"Thank you for the heart warming message.
It is indeed an honor for me to serve the underprivileged as a fistula surgeon. This gives me immense satisfaction knowing that my words and actions make someone's life better.
Without the work of Fistula Foundation, there would still be many, many patients suffering from obstetric fistula. FF's input in the last decade has directly and indirectly resulted in fewer cases of OF. This is indeed very commendable.
Looking forward to a stronger partnership between FF and Kapenguria County Referral Hospital in 2022 and beyond."
Dr. Sahondra (SALFA, Madagascar)
"We at SALFA are so honoured to be part of the group working with Fistula Foundation to bring smiles, healing and dignity to so many women. 
We at SALFA are also so honoured because of Fistula Foundation's trust and confidence in our work.
We promise to do our best to meet this consideration. 
We trust in your ongoing support to continue to work with courage, serenity and security."
Prof Ganesh Dangal (Kathmandu Model Hospital, Nepal)
"Yes it was a challenging year, 2021, [especially] due to the global pandemic. Although our activities are limited, we are determined to fight against all odds."
Dr. Sajjad Ahmed Siddiqui (Pakistan National Forum on Women's Health, Pakistan)
"Pakistan National Forum on Women's Health (PNFWH) has been working its level best to support all fistula victims in our country since 2005. All these efforts are entirely dependent on the donors' support and with the limited resources and small numbers of trained doctors, we are unable to treat all these patients. While we are treating 1,000 women each year, there are many more who suffer silently. … We are committed to fight against obstetric fistula with all our resources in our country …
On behalf of PNFWH and our Pakistani fistula team, I am very thankful to Fistula Foundation for continuing to provide support to poor fistula patients in Pakistan. We are hopeful that this pandemic will end very soon and will move as per our pre-pandemic pace once again."
Edna Adan (Edna Adan University Hospital, Somaliland)
"We are slowly becoming self-sufficient in obstetric care and also in fistula repair. Without you, we never could have achieved this. Sincere thanks and blessings."
Clement Ndahani (Comprehensive Community Based Rehabilitation in Tanzania, Tanzania)
"When I think of this partnership, my thoughts quickly run to the women living with fistula that have been assisted this year. As I write this mail, more than 400 had their fistula successfully repaired. To them this marks a new season of re-creating a clean and respected identity which was lost when they developed fistula. Immediately they start a journey of restoring productive and reproductive capacities. It is fulfilling to see smiling faces of women who are going home after successful fistula repairs. Your support not only brings  joy to treated women who had fistula but also to us (staff) who witness the changed lives. This is highly appreciated.
In the coming year, we will try our best to keep it up as a team and continue to improve our effectiveness and efficiency in a manner that will narrow the fistula service gap in Tanzania."

Dive deeper into our partnerships by viewing where we work and who we partner with.
Published on January 13, 2022